Currently Reading:
PLU Fulbright recipients ready to engage the world
May 13, 2011
PLU Fulbright recipients ready to engage the world
By Chris Albert
This year, four PLU students – Allison Meyer, Matthew Anderson, Matthew Palmquist and Reed Ojala-Barbour  – received prestigious U.S. Fulbright Student Fellowships.
That makes 87 PLU student Fulbright recipients since 1975.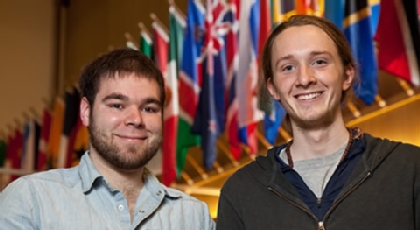 Sponsored by the U.S. Department of State, the Fulbright program was established in 1946 by the U.S. Congress to "enable the government of the United States to increase mutual understanding between people of the United States and the people of other countries."
It is the largest U.S. international exchange program offering opportunities for students, scholars and professionals to undertake international graduate study, advanced research, university teaching and teaching in elementary and secondary schools worldwide.
Allison Meyer – English teaching assistant in South Africa
Meyer will be working with university students on conversational English, reading and writing in South Africa.
"The position was especially appealing to me because I have an endorsement in teaching English Language Learners (ELL)," she said. "Most of my experience is with elementary school students, but I am excited to tutor and also learn from the adults I will be working with at the university."
Originally from Spokane, Wash, she graduated last year from PLU with a degree in elementary education.
Once Meyer returns from her fellowship she plans to pursue a job teaching ELL.
"I know that this assignment will allow me to grow into a more effective instructor by helping me develop a greater sense of cultural awareness and sensitivity, which is an especially necessary trait for teachers of English," she said.
This won't be her first time in southern Africa. She spent a J-Term in Namibia.
"I am extremely excited to have the opportunity to return to southern Africa and to fully immerse myself into a new community and culture," Meyer said.
Matthew Anderson – English teaching assistant in Germany
Anderson pursued a fellowship as a teaching assistant in Germany because of a love learning and excitement to share what he's learned about himself, his culture and his country with eager young minds, as well as encourage them to engage in learning.
"Right now, that is my passion," he said, "and I think that this particular Fulbright Fellowship offers me a great opportunity to pursue it."
Anderson will graduate this spring with a degree in German and philosophy. He'll mostly be working with German high school students in Niedersachsen.
Anderson sees this opportunity as part of his path to becoming a university professor.
"I thought this would be a great opportunity to develop some of my practical, pedagogic skills in a classroom setting," he said.
He's also excited to be back in Germany, after spending his entire sophomore year studying in Freiburg. Anderson plans to continue to develop his German language skills and pursue a doctorate degree in history once he's completed his fellowship.
"For me, the exciting aspect of the Fulbright ETA Fellowship will be the opportunity to gain hands-on pedagogical experience in a setting that will challenge both my interpersonal, relational skills, as well as my language abilities," he said.
Matthew Palmquist – English teaching assistant in Germany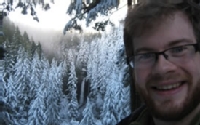 Since graduating with a degree in German last year, Palmquist has been working as a ranger assistant at Silver Falls State Park in Oregon. During that time he's had countless opportunities to speak German with German and Austrian tourists visiting the park.
"I have realized just how much I miss speaking German on a daily basis," he said.
So for his fellowship he'll be teaching English in a German secondary school.
"I have found teaching to be very rewarding and predict that teaching in a foreign country will be a new and exciting challenge," Palmquist said.
Once he completes his fellowship, he plans to pursue a career in education – either teaching German or outdoor education.
While in Europe, Palmquist plans to visit friends and family when he has the opportunities and explore Scandinavia to "utilize my Norwegian minor." But mostly he's excited to learn from his students what it means to be German today and show what being an American means.
"A key goal of the Fulbright program is cultural exchange," he said. "I want to show these students there's more to the United States than whatever pop culture transcends international borders. I'd like to share my understanding of being an American."
Reed Ojala-Barbour – Research Grant in Ecuador
Starting in September and running through the school year, Ojala-Barbour will be studying terrestrial small mammals in the cloud forests of the Ecuadorian Andes. He'll collaborate with an Ecuadorian university and a national park to understand more about how people and land use practices impact the ecology of small mammals.
"It is a great opportunity to do research and get to know another culture," Ojala-Barbour said of why he applied for a Fulbright Fellowship.
The Northfield, Minn. native graduates this spring with a degree in environmental studies and Hispanic studies.
He's not sure how the experience will shape him or what he'll do once his fellowship is complete. It may lead him to graduate school to study conservation and sustainable development in Latin America.
"I am excited to learn more about the ecology of Ecuadorian small mammals and the Andean landscape," Ojala-Barbour said. "I also look forward to speaking Spanish and working with Ecuadorians."
Faculty recipients
Vidya Thirumurthy, Instructional Development and Leadership, Research in India.