Currently Reading:
Dean of education and movement studies named
May 9, 2011
Dean of education and movement studies named
An educator who has a comprehensive understanding of national and state trends in education has been named dean and professor of the School of Education and Movement Studies at Pacific Lutheran University.
Frank Kline comes to PLU from Seattle Pacific University where he is professor and associate dean for the School of Education.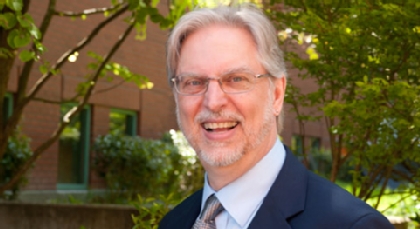 In these roles he has been instrumental in helping develop and lead a strong teacher education program.
He received his PhD in special education from the University of Kansas, his Masters from Wichita State University, and a Bachelor of Science from Greenville College.
Kline has taught at SPU since 1996, where he has been associate dean since 2003. He has also taught at Wichita State and the Associated Colleges of Central Kansas. His portfolio includes project coordination and research for the University of Kansas Institute for Research in Learning Disabilities. Kline has taught in elementary and junior high schools.
Of note is Kline's work in the Washington Association for Colleges of Teacher Education, where he has served for six years, two of those as president. He is an expert on professional education in the state and has testified on various educational issues to the state legislature. His service also includes board memberships and liaison activities to national organizations.
Kline's appointment recognizes his interests in the growth opportunities in education and also the areas of health, fitness and wellness.
According to PLU Provost Steve Starkovich, Kline "brings a strong record of higher education leadership. He comes from a School of Education that has robust graduate programs, and he has played a major role in the development of those programs, as well as directing the undergraduate program. His expertise in accreditation will also be an important asset for PLU."
Kline said he looks forward to being a part of the PLU community and acknowledges that "the fine liberal arts and professional education offered by PLU is widely respected. I'm very pleased to join the team in the School of Education and Movement Studies. I look forward to serving the students, staff, faculty and alumni, and build on the already strong offerings as we move forward."
Kline will join the PLU faculty in July.