Currently Reading:
Nobel laureate tells PLU students why he jumped into biochemistry
May 6, 2011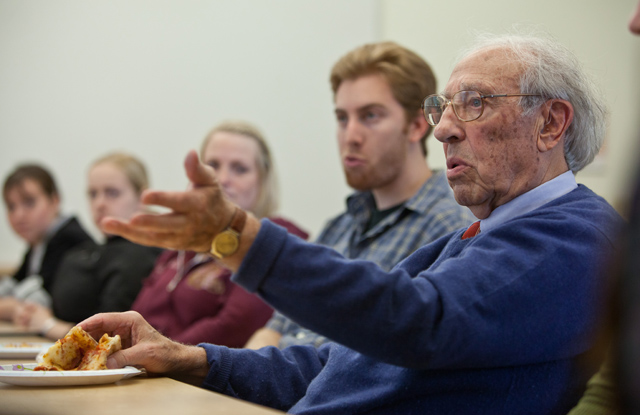 Nobel Prize laureate Edmond Fischer talks to PLU chemistry and biology students about the joys and frustrations of research work last Friday, May 6. (Photo by John Froschauer)
Nobel laureate talks about the unpredictability of biochemistry…and it's just plain fun.
By Barbara Clements
For Nobel Laureate Edmond Fischer, the most exciting part about research is that you're never sure quite where you're going to end up.
The 91-year-old professor emeritus at the University of Washington was a keynote speaker Friday at PLU's Natural Science Academic Festival, which ran through May 7. Before his address Friday evening, Fischer chatted informally over pizza with about 25 biology and chemistry majors who got a chance to ask Fischer everything from why he got into science (his father) to if he had any regrets about his career choice (no, he doesn't. He considers his work just plain fun.)
"The most interesting things happen when an experiment doesn't work out they way you predicted it would," said Fischer."Then you have to decide whether to continue or if it continues to fail, whether you have the courage to drop it."
Fischer won the Nobel Prize in 1992 along with Edwin Krebs for their work in determining that reversible protein phosphorylation can be a regulatory mechanism in biological processes. Reversible protein phosphorylation is responsible for regulation of processes as diverse as mobilization of glucose from glycogen to the prevention of transplant rejection by cyclosporin. Fischer and Krebs worked together at the University of Washington for 40 years, in what Fischer described as a close friendship.
Fischer, who decided to become a biochemist after his father contracted tuberculosis, said that he and Krebs knew their work was important, but didn't realize really how significant their research was until the Nobel committee came calling. As for winning the Nobel Prize, Fischer said he and Krebs would have continued their work, with or without the recognition.
"That's the funny attribute of a Nobel Prize," he said. "It catches you off guard. We wouldn't have changed anything (in our research) even if there had been no prize at the end of the work."
But, as a matter of fact, there was. Fischer quickly warned the students that just because a Nobel might now be on a resume, to not assume that research grants would come flowing into the doors of the lab. In fact, it usually becomes harder to get the money for projects, he said.
"It is more difficult," he said. "And that's exactly the way it should be."
Born in China, and then growing up and studying in Switzerland, Fischer came to the U.S. in the 1950s, when biochemistry was in its infancy. He noted wryly that money poured into the National Institute of Health, and his field of research, after then President Eisenhower had a heart attack. He marked the great technical advances of the 20th century squarely in the area of physics. As for the last half of the century – the fields of genetic engineering and biochemistry have taken the lead, he said.
The next 50 years might see big gains again in physics, with the study of dark energy and mass. As for the next big discovery? He wouldn't even hazard a guess. That would be like asking a cavalry sergeant in the Civil War to plan WWIII, he laughed. The future is really beyond imagining, he said.
"I've seen a lot of exhilarating things, and a lot of catastrophes," he said. "But that's biology."