Currently Reading:
New endowed professorship announced
May 19, 2011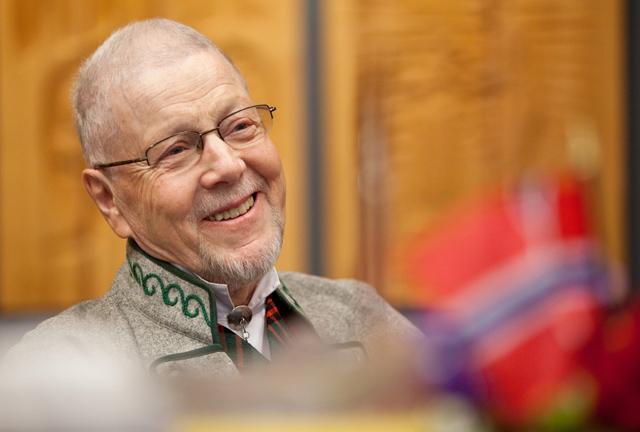 The new Professorship of Norwegian and Scandinavian Studies is the result of a decade of effort by the Svare family and professor emeritus, Audun Toven. (Photo by John Froschauer)
Professorship in Norwegian and Scandinavian Studies announced
At Pacific Lutheran University's third annual Syttende Mai  – or Norwegian Constitution Day – celebration last week, President Loren J. Anderson heralded the day and then paused for a very appropriate, and unexpected, announcement. A decade's worth of work and a last-minute push for funding paid off, as Anderson announced the creation of the Svare-Toven Norwegian and Scandinavian Studies Professorship.
The $1 million to establish the professorship reached the needed milestone just days before the May 17 announcement.
This is the second professorship at the university; the first being a Lutheran Studies Professorship that was announced in January.
During the announcement, Anderson recognized three people, who over the span of a decade, made this dream, a reality. The idea was first conceived in the mid-1990s, when Richard Svare and his sister, Betty Svare Parrot, made plans to honor their father, Trygve Svare, with the creation of an endowed faculty position.  The senior Svare had taught at PLU (then PLC) for more than three decades spanning the 1920s to the 1940s.
When the brother and sister passed away in 2004 and 2005 respectively, they left their promised gifts, but it was not enough to create an endowed position. That task was taken up by Audun Toven, who is a professor emeritus of Norwegian at PLU. Toven made it his goal during his tenure at PLU, and after he retired, to raise enough money for the endowment.
"If it wasn't for Audun, we wouldn't be here today," Anderson said.
Just days before the May 17 announcement, Kim Nesselquist '83, Consul of Norway for Washington and Idaho, and the executive director of the Norwegian-American Foundation, engaged in a flurry of fundraising that brought the total to the needed $1 million.
At last Tuesday's festivities, an obviously surprised Toven smiled broadly as he went up to the podium in the Scandinavian Cultural Center, which he helped establish. He said that creating an endowed professorship of Scandinavian studies is important, especially at universities  with a deep Lutheran heritage, such as PLU. Faced with tough times, some universities are reducing or phasing out their Norwegian studies programs altogether.
"That's why I'm interested in making sure that there is always a professorship in Norwegian studies at PLU," he said.
He then turned to the crowd and issued a challenge- on the fourth annual Syttende Mai celebration, how about an announcement for an endowed chair? Only $1 million more to go, he said.
"We're half-way there," he laughed.
Currently PLU has three endowed chairs: The Kurt Mayer Chair in Holocaust Studies, the Benson Family Chair in Business and Economic History and the Jolita Benson Endowed Chair in Elementary Education.