Currently Reading:
13th Annual Jazz Under the Stars
June 8, 2011
13th Annual Jazz Under the Stars
Jazz Under the Stars at Pacific Lutheran University combines two ideas – provide outdoor, evening jazz performances and the chance to gaze at the stars from the university's observatory.
International trumpeter Thomas Marriott will open the annual JUTS on the right note, July 7, at the MBR amphitheater.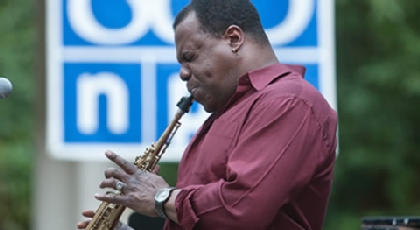 The university event is in its 13th year and has featured returning and new artists every summer. The concerts are free to the public and a perfect way to enjoy jazz in the setting of the Mary Baker Russell building's outdoor amphitheater. Along with the series being free, refreshments are provided and star charts are passed out for those interested in viewing the night sky from the campus' observatory. Keck Observatory nights are planned for July 28 and Aug. 4 and 11.
When:
Thursdays from 7 to 9 p.m., July 7-August 11
Where:
PLU, Mary Baker Russell Amphitheater
July 7 – Tom Marriott
Trumpeter Thomas Marriott, seven-time winner of the Earshot Jazz "Golden Ear," is one of the most exciting voices in jazz to emerge in the last decade. He has performed throughout the world with some of the biggest names in jazz, including Maynard Ferguson, Charlie Hunter, Joe Locke, Rosemary Clooney, The Tito Puente Orchestra and many others. He has released seven albums as a leader on Origin records, three of which made it into the top 10 on the national jazz radio including last year's "East-West Trumpet Summit," which made it all the way to number one on the Jazz Week chart. JazzTimes magazine has described him as "One of the world's best trumpeters."
July 14 – The Jazz Senators
The Olympia Jazz Senators Big Band includes the finest jazz musicians in the South Puget Sound area. Members hail from Florida to Alaska, and graduated from top music schools like Eastman on the east coast, to Pacific Lutheran University on this coast, and seemingly everywhere in between. Several Senators played worldwide with U.S. armed forces bands including the Air Force Airmen of Note, and the Navy, Army and Marine bands.
July 21 – Susan Pascal
Vibraphonist Susan Pascal has toured the United States and Singapore, played on film soundtracks and is a guest artist on numerous recording projects. Her Quartet's all-star lineup features Susan on vibraphone, Dave Peterson on guitar, Chuck Deardorf on bass, and Mark Ivester on drums – a powerhouse combination with a broad repertoire showcasing tight ensemble playing and virtuoso soloing. "Fluid stick work and coherent, compact solos make this vibraphonist a delight," The Strange, Seattle; "breathtaking," All About Jazz; "blazing 4-mallet technique," Earshot Jazz.
July 28 – Johnaye Kendrick
A San Diego native, Johnaye Kendrick received a Bachelor of Music from Western Michigan University in 2005. During her time at Western Michigan, she received a Down Beat Student Music Award as an Outstanding Jazz Vocalist, and was featured on an honors recital with pianist Fred Hersch. In the summer of 2005, she was a featured soloist in a piece composed and directed by legendary bassist Rufus Reid for the International Society of Bassists Conference.
In the fall of 2007, Ms. Kendrick was accepted to the prestigious Thelonious Monk Institute of Jazz, a Graduate program which focuses on jazz performance and composition. While attending the Institute, Kendrick worked with many jazz legends, including Terence Blanchard, Wayne Shorter, Herbie Hancock, Danilo Perez, Kurt Rosenwinkel and Brian Blade. After graduating from the Institute, Kendrick was immediately hired by trumpeter Nicholas Payton, who raves "Kendrick has the potential to be a vocalist of the highest order; the likes of which we have seen seldom since the grande dames of the golden era of jazz roamed about the earth. She's got IT!" In addition to her many travels with the Nicholas Payton SEXTET, Kendrick is also the featured vocalist with the Ellis Marsalis Quartest and the New Orleans Jazz Orchestra. The Orchestra won a Grammy Award in the 2009 "Best Large Jazz Ensemble Album" category for their latest release, Book 1 on which Kendrick is featured. She is also an assistant professor of jazz voice at Cornish College of Arts in Seattle, Wash.
August 4 – David Deacon-Joyner
David Deacon-Joyner is professor and director of jazz studies at PLU. He is a native of Memphis, Tenn., mentored by jazz piano great James Williams. Deacon-Joyner came to western Washington from the University of North Texas in Denton, where he held the position of associate professor of jazz studies from 1986 to 2000. He has served as clinician and adjudicator at festivals and workshops in Tennessee, Alabama, Texas, Ohio, Oregon, Nevada, California, New Mexico, Idaho and Washington. He is the lead instructor for the Great Basis Jazz Camp, a summer jazz camp held at the College of Southern Idaho in Twin Falls. Deacon-Joyner has free-lanced for over 30 years in the Memphis, Cincinnati, and Dallas/Fort Worth areas. He ahs performed with jazz artists such as Bobby Shew, Marvin Stamm, Marc Johnson, Ed Soph, and others. Deacon-Joyner is a professional vocalist in both studio and live settings, and is a composer and arranger. He currently arranges big band carts for Jeff Coffin, saxophonist with Bela Flect and the Flecktones and the Jeff Coffin Mu'tet, published by UNC Press. He is arranger, vocalist, and pianist In Full Swing, a Dallas-based jazz vocal group act that appears with symphony pops orchestra across the country.
August 11 – Jim Kerl Orchestra
"Sinatra at The Sands" is nothing short of a swinging' time trip back to the Las Vegas Strip. Joey Jewell's performance is true to the incomparable phrasing and vocal texture of Frank Sinatra and evokes the swaggering spirit of Ol' Blue Eyes and Vegas in their heyday. And Jim Kerl's Swinging' Sixties band has the energy and excitement to keep you going all night, wonderfully smooth and sophisticated arrangements, and the musical chops and passion to play it all. The show is smart, funny, and a wonderful tribute to the lost art of livin' it up. You feel like you're in "The Big Room at the Sands and life is good.