Currently Reading:
Play the University Golf Course this summer!
June 13, 2011
Play the University Golf Course this summer!
By Steve Hansen
Summer is always a great time to play the PLU University Golf Course.
And this summer may be the best time of all – because it will also be the last. Around October 31, 2011, the golf course will close to make way for new multipurpose recreation and athletic fields on lower campus.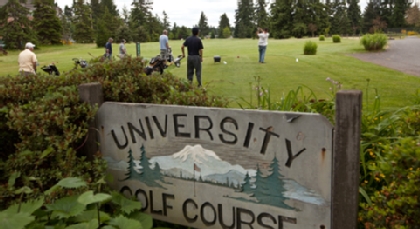 Depending on the success of fund-raising for the projects, site preparation will begin in the fall, leading to the installation of one synthetic turf field and possibly one natural turf field in 2012. Construction will be completed in seven to nine months.
Until the October closing date, the nine-hole, par-35 course will remain open to the public. The 2,732-yard course is great for families, and even better for the budget. PLU students and staff can play nine holes for $5, and 18 holes for $8. Rental clubs are also available at the clubhouse for a mere $5.
The planned closure of the golf course is not new. For more than a decade, planning for the redevelopment has been carried out by campus master planning groups including faculty, students and staff. The athletic and recreation projects are part of the long-range Campus Master Plan adopted by the PLU Board of Regents.
The redeveloped area will serve the physical education, athletic, recreational and wellness needs of the campus. They will be available for practice and competition in soccer, football, and lacrosse. They will also serve club sports, intramurals, academic activity courses and outdoor recreation, including use by the Parkland community.
Indeed, the closing of the course is just the first of many exciting new developments designed to meet the athletic and recreational needs of the PLU and Parkland community. But until then? Time to hit the links!