Currently Reading:
Flurry of work continues on the PLU campus
June 14, 2011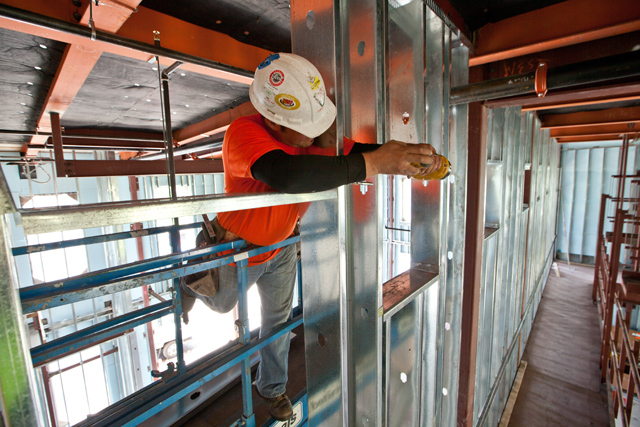 Renovations on Eastvold Auditorium continue, with Phase 1 of the project on schedule to be completed this August. (Photo by John Froschauer)
Flurry of work continues on the PLU campus
Life on campus may slow down a bit during the summer – as far as the number of students – but work to support student success never stops.
Construction projects, both big and small, help improve university facilities between move-out day in late May and first-year orientation in September. Renovations on Eastvold Auditorium continue, with Phase 1 of the project  on schedule to be completed this August. The fully-funded $4.93 million  project includes construction of a new studio theater and set construction shop in the north wing of the building. Groundbreaking for phase 2 is scheduled for spring 2012.
When completed, the $20 million, 47,500 square-foot performing arts center will be named the Karen Hille Phillips Performing Arts Center, in honor of a long-time PLU supporter and the university's greatest single benefactor. The auditorium will still be called Eastvold and the Tower Chapel will retain its name.
On lower campus, the track is being resurfaced, with the project expected to be complete by early fall. Updates to the track include a new drainage system, as well as reconfiguring of some of the runs, said Lyle Kendoll, project coordinator. The renovations should be complete by early fall.
"It will bring the track to NCAA standards," he said.
Upgrades to the Rieke Science Center continue with a roof replacement, as well as upgrades to a lab which will include the installations of a "smart" podium, along with movable tables, chairs and flooring. Renovations to the science center are taking place incrementally and more lab renovations are planned, said John Kaniss, construction projects manager.
Class space upgrades in the Hauge Administration building continue and the 108-seat Ingram lecture hall is being refurbished, with new carpeting, chairs and tables.
Improvements – from new paint to new furniture – are taking place in three residence halls. Twenty-three units in South Hall are being painted, getting new carpeting and receiving scheduled appliance upgrades. The flooring in the fourth and fifth floors in Harstad is being replaced and new furniture is being installed, while the wireless network in Kreidler is being upgraded and all the restrooms will be updated, along with a complete paint job.
"A lot of it is upkeep," Kendoll said.
Additional work  around campus this summer includes repairs to the University Center kitchen floor and the UC's south facing roof, and the installation of security cameras in campus parking lots.