Currently Reading:
Geriatric nursing programs receive grants
June 29, 2011
Nursing program secures two grants
The School of Nursing recently received a total of $800,000 in grants which will help the school continue its outreach to senior citizens in the South Puget Sound area. Broken out, the funds come from a$500,000 grant received from the Gary E. Milgard Family Foundation to the Comprehensive Gerontologic Education Partnership (CGEP), and an additional $300,000 from the Cornelsen Family Foundation.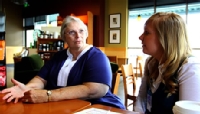 The School of Nursing is in the process of securing a total of  $3 million fund to support, in perpetuity, the initiative which would include scholarships in geriatric care, and expand the program to improve the health of kinship caregivers who often are raising foster children, grandchildren or infants. The donation this year is in addition to the $500,000 the Milgard Family Foundation gave to the program in 2010.
The Cornelsen Family Foundation's grant will support the purchase of a mini-bus, as well as equipping the buses with labs that would include non-invasive electrocardiograms and smart podium systems, for in-home care.
In all 200 students have participated in the geriatric program at PLU since it began in 2008, when it received a prestigious grant from the Robert Wood Johnson Foundation. This project, the only one of its kind in the state, has provided a national platform for PLU to offer world-class training in the care of older adults.
Another part of the CGEP that has gained national recognition was the Congestive Heart Failure Community Transition Program, in which MultiCare and PLU's School of Nursing joined up to follow patients home after they leave the hospital.  The program received a $250,000 startup grant from the Partners Investing in Nursing's Future program, an initiative between the Northwest Health Foundation and the Robert Wood Johnson Foundation, as well as several contributions from the Dimmer Family Foundation.
"All these programs put our nurses in the community, where they can make a dramatic difference," said Terry Miller, Dean of the School of Nursing.