Currently Reading:
PLU prof awarded prize from Yale University
July 11, 2011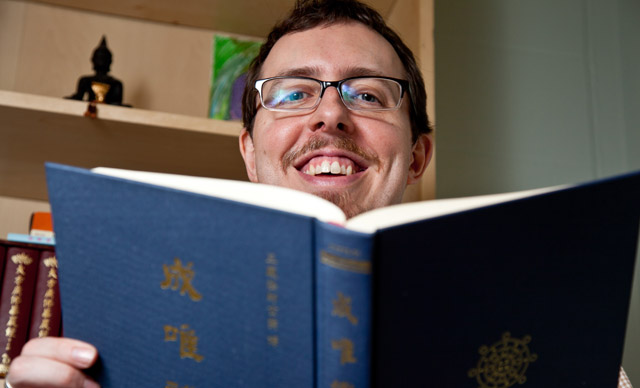 PLU prof awarded prize from Yale University
By Chris Albert
In late June, the Council on East Asian Studies at Yale University named PLU Assistant Professor Erik Hammerstrom the Stanley Weinstein Dissertation Prize winner for the academic years of 2008-2010.
"At first I was kind of surprised – there are so many great dissertations," he said. "It's a great honor. It fills me with a lot of confidence that I'm pursuing the right path."The council selects one recipient every two years.
Last year was Hammerstrom's first complete year of teaching at PLU – or anywhere else. In 2010, he earned his Ph.D. in religious studies from Indiana University. A northwest native – from the Portland area – he always wanted to return to the Pacific Northwest. Working at PLU provided a great opportunity to return to an area he loves and to follow his passion for Buddhist studies.
The accolades haven't stopped with the prize either. Since the announcement, Hammerstrom has received interest from publishers and had inquiries about him contributing more work.
"It kind of opens those doors," he said.
His dissertation examines late 19th and early 20th century China, and how Buddhist traditions and the exploration of science fit together to answer questions about "What should a modern society look like?"
"Which is a really interesting period," Hammerstrom said. "Science was happening, so it was important for the Buddhist to talk about it as well."
He spent part of his time doing research for his dissertation as a Fulbright Fellow at Taiwan National University. During that time he was also able to examine hundreds of digital copies of documents from that era. It had been the first time they were available digitally. Previously, he would have had to travel to each location they were kept.
"There was just this massive explosion of resources," Hammerstrom said.
For whatever reason, he thinks not enough had been written about this time period, as far as examining its reach in developing Chinese society. According the the selection committee, they were "particularly impressed with the clarity of writing and the intellectual breadth of the dissertation, which necessitated dealing with a wide range of Chinese materials that span the entire history of Buddhism in China. The result is an impressive contribution to our knowledge of the complex responses by modern Chinese Buddhist teachers and intellectuals to scientific advances around the turn of the 20th century."
"It was an age of openness," Hammerstrom said. "Everyone was talking about these big ideas."
Being able to talk about a subject like this is what initially drew him into academics. "All I knew was this was what I had to do," Hammerstrom said.
And he couldn't be more excited to see what happens next. He's found that the support within his department and division at PLU has been amazing, and he has enjoyed teaching.
"It was a great first year," Hammerstrom said.