Currently Reading:
'We are all Norwegians'
July 27, 2011
'We are all Norwegians'
Ladies and Gentlemen: We gather this evening to remember and pay tribute, to share our hurt and show that we care, and to grieve for those we have lost, even as we reach out to support one another.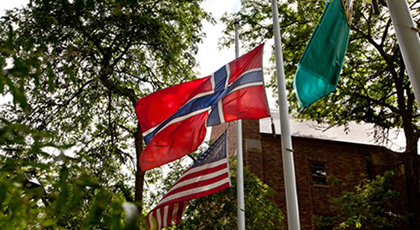 We are drawn together by the quite natural urge "to search for order amidst chaos, to make sense out of the senseless," (President Obama, January 2011).  And given our common purpose, it can certainly be said that "We are all Norwegians tonight!"
We are all Norwegians, first, because we share such a profound sense of both outrage and frustration, even anger and hopelessness, about the events of last Friday. As President Obama reminded us earlier this year in Tucson,  "there is evil in the world, and…terrible things happen for reasons that defy human understanding. In the words of Job, 'when I reached for light, then came darkness.'"
So we experience feelings of violation and loss so deep and strong that they penetrate borders and transcends boundaries, national and cultural, religious and political, and they bring us together young and old, rich and poor.  So we are drawn together once this evening as a true community, albeit wounded, to draw strength from our faith, and find support as would a family, and tonight we are a Norwegian family.
Second, we are all Norwegians tonight because our most sacred and important principles and values have been attacked, and, for a moment, the foundation of our civilized democratic nations has been shaken. For you see, that foundation begins with our shared beliefs in the sanctity of human life itself, in the intrinsic worth and value of every person, in the beauty of difference, in the richness and diversity of God's creation, and, hence, in our common responsibility to nurture, and never harm, another. Building on this strong embrace of human potential and goodness, we are made bold to believe that individual freedom and responsibility is the proper ground on which to build a model of governance and society that is free and open; a model that at once inspires personal achievement, enables greatness, promotes the general welfare, and calls each and all of us to both seek and serve the greater good.
Indeed, in countries such as Norway and these United States, this noble experiment in government works so well that we take it for granted, we let down both our vigilance and our guard. And then come days like April 19, 1995 in Oklahoma City, January 8, 2011 in Tucson, Ariz., and now July 22 in Oslo and on Oteya, Norway; days when we are reminded to take seriously the simple cliché "that freedom is not free," and that because the human condition is frail and fractured, it sometimes breaks and fails us completely as it did last Friday. And the resulting pain is simply horrible. So as one great hurting family we ask again "how do we both build democracy and ensure our precious freedoms and, at the same time, guard and protect the general welfare, and insure domestic tranquility?" In that shared quest, we are all Norwegians tonight!
Third, we are all Norwegians tonight because we are resolved to stand our ground and to stand it together, to help one another live through our grief and anguish, to reflect and learn from our experience, and through it all to move forward once again, and to do so with a more nuanced and even deeper sense of hope and possibility about the future.
Americans, Norwegian Americans, and Norwegians are, if nothing else, a resolute and determined, some might even say stubborn, people; and it is a one of our great strengths. Last Saturday, Prime Minister Jens Stoltenberg described July 22 as "the worst peace time day in Norway's history." His comment awakened memories of Norway's dark hours during WWII, days when America and Norway stood together, shoulder to shoulder, committed at all cost to defeat evil, restore democracy, and renew both our faith in the human spirit and our commitment to Individual dignity and freedom.
In the midst of that great struggle, when President Roosevelt sought to rally a hesitant and skeptical nation, he turned toward Norway, and he said: "If there is anyone who wonders why this war is being fought, let him look to Norway. If there is anyone who has any delusions that the war could have been averted, let him look to Norway; and if there is anyone who doubts the democratic will to win, again I say, let him look to Norway."
So tonight, in a very different time and manner, when evil has once assaulted the innocent, even the children, we look to Norway. Indeed, we reach out to the people of Norway with our hearts, with our prayers for help and healing, with our words of condolence, our expressions of love, and our promise of support.
Norway, we want you to know that we share your loss and grief! We stand with you because we, like you, have in the past seen the heart of our democracy tested. We stand with you now, as you mourn, we stand with you tomorrow, as you move forward, and we will stand with you in the days ahead as you rebuild that powerful sense of hope and possibility that so marks and ennobles both of our great nations.
"Tonight we are all Norwegians!"
May God surround us and all who grieve with his love and bless both our days and our deeds forevermore. Thank you.
Tuesday, July 26 PLU President Loren J. Anderson joined hundreds at the Nordic Heritage Museum in Ballard for a vigil to remember victims of last week's attacks in Norway.  These are the remarks he made during the service.