Currently Reading:
Aaron Hushagen's cool internship: 88.5 KPLU-FM
November 29, 2011
Aaron Hushagen's cool internship: 88.5 KPLU-FM
Aaron Hushagen is a sociology major. He's also an audiophile.
So, during his senior year when he was taking an audio production class, he found himself thinking that he'd like to learn more about it. It didn't matter that it didn't have anything to do with his major.
He asked his professor, Bob Holden, if he knew of any opportunities where he could continue to learn about the subject.
Soon, Hushagen found himself meeting with Joey Cohn, the assistant general manager of the National Public Radio affiliate 88.5 KPLU-FM. Soon thereafter, he was interning at the studio.
Hushagen started producing the on-air "comedy drops" – the little breaks between songs – and helping with the in-studio sessions when jazz performers would come to the studio.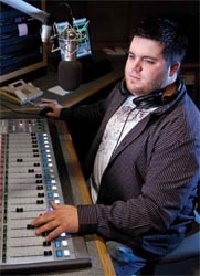 All in all, it was a great way for him to find a passion for something – even though it was outside his major.
"This is an experience I didn't expect to have," he said. "And when I started doing it, I thought, 'yeah, this is exactly what I want to do.'"