Currently Reading:
Canine offers friendship, safety for child
November 22, 2011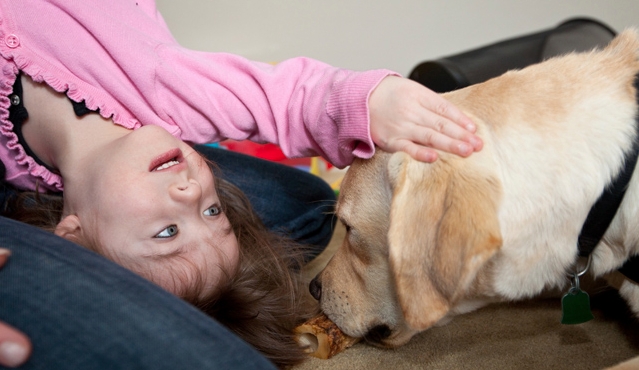 Isabel Moore plays with her new therapy dog Luka. (John Froschauer 2011)
Canine offers friendship, safety for child
By: Katie Scaff '13
This fall, 4-year-old Isabel Moore made more than a new friend when she met Luka, a one-year-old therapy dog.
A few students in PLU's Marriage and Family Therapy (MFT) program helped that happen. It all began when Maggie Woods, a second year student in PLU's MFT program, read an article about Isabel in July.
Isabel was diagnosed with autism in 2009, and her mother Liz Moore was trying to raise funds so Isabel could have her own service dog, one especially trained for someone with autism.
A therapy dog had visited Isabel's school earlier in the year and Liz saw a spark between her daughter and the dog. After seeing the interaction, she began looking into getting Isabel a therapy dog.
"He was very calm. He didn't ask anything of her. He just let her talk so she was just able to sit there and talk," Liz said. "It was like she knew he was safe.
"She was laying on him like a pillow and talking to him. I'm hoping that same connection will happen with Luka."
Before the news story had been published, the family had raised about $650, but they needed $5,000 to get a dog from the North Star Foundation. The interaction Luka can provide Isabel is more than friendship, but also a matter of safety. Isabel has difficulty with fast movements, and sometimes isolates herself and wants to run out into traffic, Liz said.
"You might find that a traditional service dog is taught to open a door for somebody. Luka is trained to work with Isabel specifically," she said. "Everything that Luka will do will be geared toward Isabel. Isabel is kind of an escape artist. Luka will be trained to find her.
"It's getting a little scarier for me. My biggest hope is that Luka is a tattletale. I'm afraid (Isabel) will figure out how to do something very dangerous…she'd make an excellent spy. My biggest hope is that Luka will tattle on her constantly."
Woods empathized with Isabel's mom Liz, who had lost her husband in 2009 after the birth of her second child and was now working hard to go back to school to provide a better life for her family.
"What struck me most about them as a family is that Liz is going back to school," Woods said. "They didn't ask to be in this situation in the first place."
Woods knew she had to do something. She started thinking about what she could give, and she remembered a box of stuff at her house that she was going to give away anyway. A garage sale was the perfect solution. Other students in the MFT program got involved, and they helped put up flyers and spread the word.
"I was amazed that Maggie, who I never met in my life, would give up I don't know how much time…raising money for Isabel," Liz said. "I had never met her before and she felt compelled to help us."
Donations just started pouring in, and before they knew it the storeroom in the Couple and Family Therapy Center was full.
"Before you knew it, it just kind of exploded," said Woods.
They held the sale over Labor Day weekend on Saturday, Sept, 3 and Sunday, Sept, 4, and raised more than $1,200 for Isabel.
"It was a real catalyst to help achieve the goal. I'm sure the animal can't come too soon for the need," said Rick Eastman, Woods's father and associate director of Student Involvement & Leadership. "This will offer some stability and certainly some protection."
Woods, who first got to meet Isabel and her mom when they stopped by the sale on Saturday, said she could see the benefit a service dog would provide for not only Isabel, but for her mom as well.
"It was really obvious that a dog would help. Her mom could call her name and she wouldn't react," Woods said. "The dog will be trained to help calm her down and make it so her mom doesn't always have to have a hand on her."
"Most people when they think of service dogs they think of physically challenged adults," said Patty Dobbs Gross, executive director of North Star Foundation. "This is really rather a different concept. The dogs that we train and place are for social, emotional and educational goals for children."
Service dogs for autistic children from North Star are bred for temperament that's conducive to working with children, according to Gross. Their behavior needs to be responsive to the social cues of the child.
"Isabel's particular dog, Luka, was raised by a professional dog trainer with two little girls. We want to raise her pup with children," Gross said. "Our puppy in training comes to understand that children are where it's at."
Unlike other service dogs, service dogs for children with autism are placed with the child when the dog is still a puppy. The timetable for placement is tailored to the child's need and the dog's development. Typically, this type of service dog receives only 6 months of training, rather than the 2 years other types of service dogs might receive. This different timetable for placement allows the dog's training to better match the child's needs, and for the dog and child to have the strongest possible bond.
"Isabel is already ready for Luka because Liz, her mom, has been taking her to see dogs… and working on her skills with dogs."
Luka came to live with Isabel in mid November, thanks to the money raised by Woods and others in the MFT program, and others who have donated either directly to the family or through other fundraising efforts. In addition to providing comfort and support, dogs like Luka are also a social bridge for children with autism. The dog can provide a point of conversation between the autistic child and the public, and start conversations that might not otherwise occur.
"Reducing their isolation when they go out," Gross said, "it can really make a huge difference in someone's life when the world smiles at them."