Currently Reading:
Examination of a conscience
November 11, 2011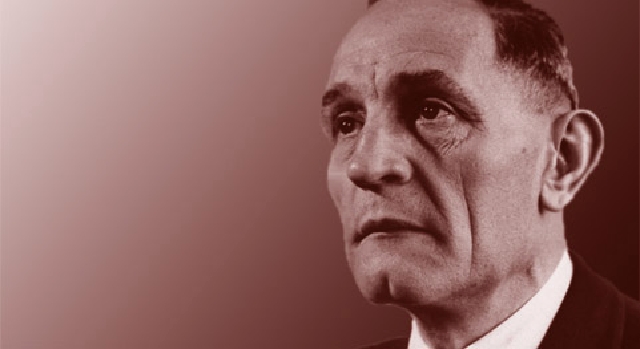 Martin Niemoeller: One man's journey of conscience reviewed at Holocaust lecture
So who exactly was Martin Niemoeller, the Lutheran pastor who was famed for this quote, made after he was released from Dachau concentration camp in 1945 – 
"First they came for the communists, and I didn't speak out because I wasn't a communist. Then they came for the trade unionists, and I didn't speak out because I wasn't a trade unionist. Then they came for the Jews, and I didn't speak out because I wasn't a Jew. Then they came for me, and there was no one left to speak out for me."
"This is the rough chronology of who was rounded up by the Nazi regime," said Hubert Locke,a renowned Holocaust scholar and dean emeritus of the Daniel J. Evans Graduate School of Public Affairs at the University of Washington.
Niemoeller was initially supportive of Hitler and his regime – he sent a congratulatory letter to Hitler after he was first elected – but soon started speaking actively against the Nazis after two key events. The first that occurred in 1933, when the Nazis issues the "Aryan Paragraph," legislation used to exclude Jews from organizations, professions and students from German schools and universities.
Niemoeller was finally arrested and imprisoned in 1937 for his opposition to the Nazis' attempt to control the churches and church leadership. He was not released from Dachau until it was liberated by the Allies. He died in 1984 at the age of 92 in Germany. Historians can't seem to place Niemoeller on one side or another – collaborator or resistance figure – when looking at his reaction to the persecution of Jews at the time. A former U-boat captain, Neimoeller was quoted often of making anti-Semitic remarks, even while protecting converted Christians in his church.
"He wasn't a principal person in the resistance," Locke noted. "But he was a member of the "Pastors Emergency League" that resisted the Nazis growing influence over the church.
It was unclear what Niemoeller thought of the Jews in general, or of their gradual disappearance from public life in Germany, noted Locke. Niemoeller's letters from prison were full of casual remarks and once and awhile he'd inquire about a friend. Often, Locke said, his wife would respond that the friend was dead, missing or arrested.
After Niemoeller was released, he'd realized what had happened, not only to his neighbors, but to the Jewish population of Germany and Europe "and it was his Damascus Road experience," Locke said.
Niemoelleröller was president of the Protestant Church in Hesse and Nassau from 1947 to 1961. He was one of the initiators of the Stuttgart Declaration of Guilt, signed by leading figures in the German Protestant churches. The document acknowledged that the churches had not done enough to resist the Nazis.
Locke's talk filled Xavier's lecture hall and is part of the Holocaust Lecture Series, preceding the full fledged Holocaust Conference at PLU each spring.
In 1970 Locke and Franklin Littell hosted the first Scholars Conference on Churches and the Holocaust, the oldest Holocaust conference still meeting annually in the United States. He has also written and edited books on this topic, including The German Church Struggle and the Holocaust (co-edited with Franklin Littell, 1974), The Church Confronts the Nazis: Barmen Then and Now (1984), Learning from History: A Black Christian's Perspective on the Holocaust (2000), and Searching for God in God-forsaken Times and Places: Reflections on the Holocaust, Racism, and Death (2003).