Currently Reading:
Extending a hand to veterans
November 11, 2011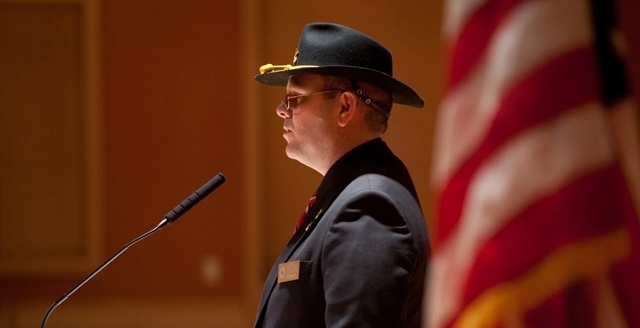 SFC (retired) Michael Farnum during the Veterans Day Ceremony at PLU. (Photo by John Froschauer)
Extending a hand to veterans
By Chris Albert

Extending a hand of thanks embodies the spirit of Veterans Day, said SFC (retired) Michael Farnum during the Veterans Day Ceremony at PLU.
"Today I come to you as a retired soldier with a message of peace on my tongue," he said to the assembled crowd of more than 100 people in Lagerquist Concert Hall Friday, Nov. 11.
Farnum began his keynote address by sharing how Veterans Day came to be and what it has become throughout the years.
It was President Woodrow Wilson who first proclaimed Nov. 11 as Armistice Day – in recognition of the end of WWI with the signing of a peace accord in Versailles, France on the 11th day of the 11th month and celebration of remembrance for those who did not return and sacrificed so much in pursuit of peace.
In 1954, President Dwight D. Eisenhower proclaimed Armistice Day as Veterans Day in recognition of all veterans, since the country had seen two additional wars and many more citizens had answered the call to serve in the U.S. Armed Forces.
And as recently as last year, President Barack Obama proclaimed a rededication to strengthen the bond between citizens and the military.
"Extend a hand to someone you don't know because that is a sign of peace and actions speak louder than words," Farnum said. "I think it's exactly what they had in mind when they met in Versailles."
Farnum shared his story of a solider with more than 20 years of service in the Army. He spent time deployed around the world, including tours in both Iraq wars. It was a life of service and sacrifice. It's a story many veterans share, he said, but each story is also unique.
At PLU alone there are more than 130 veterans enrolled and about 200 cadets in the ROTC program, he said.
As Farnum transitioned from military service to civilian life, programs like the Yellow Ribbon Program at PLU have helped in working toward a degree in environmental studies.
"PLU extended a hand to veterans," he told the crowd. "Let our actions strengthen our bond."
In continuing that dedication a Memorandum of Understanding was signed by PLU President Loren J. Anderson. It had been signed earlier in the week by other officials.
Farnum told the crowd how a pathway to an education for veterans means people like him can continue to be contributing members of society after their military careers are over.
"It's amazing what extending a hand can do," he said.