Currently Reading:
Annika Carow's cool internship: The Puyallup Fair
November 29, 2011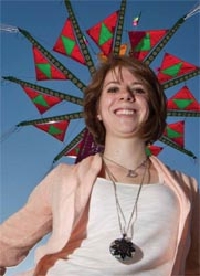 Annika Carow '12 says her internship at the Puyallup Fair is "absolutely a great portfolio builder." (Photo by John Froschauer)
Annika Carow's cool internship: The Puyallup Fair
Annika Carow '12 is a busy person. She has a full class load of 17 credits, and is the assistant general manager of MediaLab, PLU's student-run media organization.
But when she locked-down a coveted 40-hour-a-week internship in the public relations department of the Puyallup Fair – the largest fair west of the Mississippi – she couldn't pass that up.
"I didn't plan on getting a lot of sleep," she laughed.
Carow was responsible for the official program at the fair, writing copy and overseeing its layout. She also organized the "Healthy Fare" program – working with vendors to put together a menu of healthy options. She also organized "Jock Talk," a daily newsletter sent to radio stations that promoted specific events.
Only three public relations interns are chosen each year – one of which is often held for a PLU student.
Those kinds of relationships make a real difference. "Rob Wells, my adviser, really knows the people to talk to, so we can get the experience we need as students."
PLU students have a reputation, too. Employers know they'll get good work from their interns, which in Carow's case, gives her much-needed flexibility.
"My boss knows I'm a student first," Carow said. "So I can work my job around my classes." That helps when you are as busy as Carow.
"It is a really great experience," said Carow. "You're doing hands-on work, and it's absolutely a great portfolio builder."