Currently Reading:
Andrew Whitney's cool internship: Bank of New York Mellon
November 29, 2011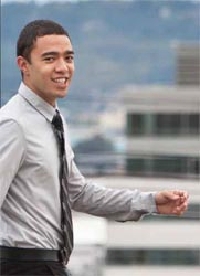 Andrew Whitney's cool internship: Bank of New York Mellon
By Steve Hansen

Of the many numbers Andrew Whitney recalls from his finance class, this one stuck out to him: 70.
"I remember my prof telling us that 70 percent of interns get offered a position," Whitney recalls. "He always said 'numbers like that you just don't get anywhere else.'"
His prof, Assistant Professor of Business Kevin Boeh, would know. Boeh is a former Wall Street investment banker whose accounts totaled in the billions of dollars.
Like he does for all of his students, Boeh helped Whitney identify a good match for his skills, and helped him prepare for the interview. The result? Whitney took a summer internship with Bank of New York Mellon, working 40 hours a week.
After the summer, Whitney was given the opportunity to stay on as long he, and the bank, felt like he was contributing. Whitney plans to stay through graduation – after that, maybe it'll turn into a job.
Whitney sees his internship as a practical application of what he's learning in business school.
He does a lot of number-crunching and reviews a lot of raw financial data. He also checks financial portfolios to make sure they are compliant – for example, if a client doesn't want a stock portfolio that includes tobacco companies, he makes sure they are out.
Are there things he learned in his business classes that have been backed-up by his time at Bank of New York Mellon? Whitney's response is simple:
"Everything. Everything has popped up once or twice while I've been here."