Currently Reading:
Ted Charles' cool internship: Mt. Rainier National Park
November 29, 2011
Ted Charles' cool internship: Mt. Rainier National Park
By Steve Hansen
When the director of cultural anthropological services at Mt. Rainier National Park came to PLU to speak to his anthropology class last fall, Ted Charles '12 had an idea: He loves anthropology and he loves the outdoors. Maybe he could combine the two?
After class, he asked the speaker if there were any summer internships available. There were. So Charles kept in contact. So did his professor, Bradford Andrews, who had worked with that day's speaker on other projects.
And by spring, Charles had an internship secured. The following summer he was working four days a week based out of the park headquarters – the other days he spent hiking in the backcountry.
"This was the ideal situation," he smiled.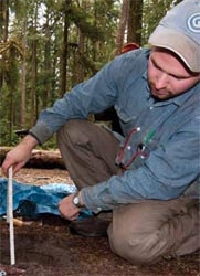 Over the summer, he helped inventory the archaeological sites in the national park, and he worked with other archaeologists as part of the Nisqually-to-Paradise National Historic Landmark Project. In essence, Charles and others were attempting to survey and recover an old government road built in the park in its earliest days.
Charles considered the internship the perfect opportunity to take those "real anthropological tools" he learned in class and use them in the field.
"It's something I'd never had the opportunity to use before this internship," he said.
The internship had other benefits, too. For Charles' senior thesis, he had been planning to write about the Civilian Conservation Corps within the context of the National Park Service. His work over the summer gave him access to numerous resources – and personal contacts! – that he would never had otherwise.
All in all, it was the perfect way to spend a summer. And, in Charles' view, a perfect way to preview the next steps in his life.
"It was a unique chance to preview my future," he said.