Currently Reading:
Drawn to serve
February 8, 2012

Drawn to serve
For PLU professor Greg Williams Mexico is more than a spot to vacation – it's a place to continue his service to children with disabilities.
Williams has made more than a dozen trips to Mexico over the last four years to volunteer at a local center for severely disabled children called Sol y Luna.
Williams, a professor of Instructional Development and Leadership at PLU, started his teaching career at the Frances Haddon Morgan Center, a state institution in Bremerton, which closed earlier this year. At the time, it served autistic children ages 3 to 13.
"That was my first introduction really to teaching and being responsible for the instructional management of kids with those types of disabilities," Williams said.
.
Thirty-seven years later, Williams is still doing this work.
"I'm still working with those types of kids—kids with primarily with emotional and behavioral disabilities," Williams said. "I derive a great deal of satisfaction from that work. That's why I wanted to continue it in Mexico."
Williams, who frequently travels to Mexico, found out about Sol y Luna from a friend of his and starting volunteering there in January 2007.
"They put me to work with a child whose name is Daniel," said Williams. "Daniel is a young man who really can't do anything, he's profoundly disabled."
Williams spent his first day at Sol y Luna feeding Daniel his lunch, cleaning him up and making sure he could rest comfortably. He continued providing this one-on-one care in the days and weeks to follow, but soon Sol y Luna's director Marian Joanna Hijlkema had other plans for Williams.
After his second or third trip to Mexico to volunteer Hijlkema finally asked him about his background.
"Up to that point I just said that I was a Norte who liked to spend time in Merida and wanted to volunteer," Williams said.
After telling her about his background in special education, Hijlkema told him, "Well, we have something for you to do then." She wanted him to work more at the program level, rather than the individual child level.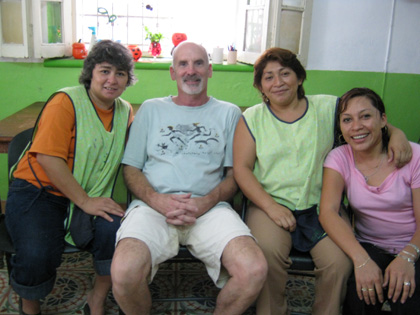 "These types of kids that Sol y Luna works with… present very challenging behaviors to the people who work with them," Williams said. "The program really needed some help in dealing with some of these real challenging behaviors."Williams began working with the teachers on how to manage those behaviors and teach the children new behaviors. Each year, Williams makes about four trips to Sol y Luna to lead workshops, conduct meetings, and help with program and staff development at the center in Merida, where he started volunteering, and a new center that opened in Hidalgo.
"I really value my time there. It means a lot to me," Williams said. "I'm always really glad to see them and I think they're really glad to see me."