Currently Reading:
Alum makes a difference in India
March 19, 2012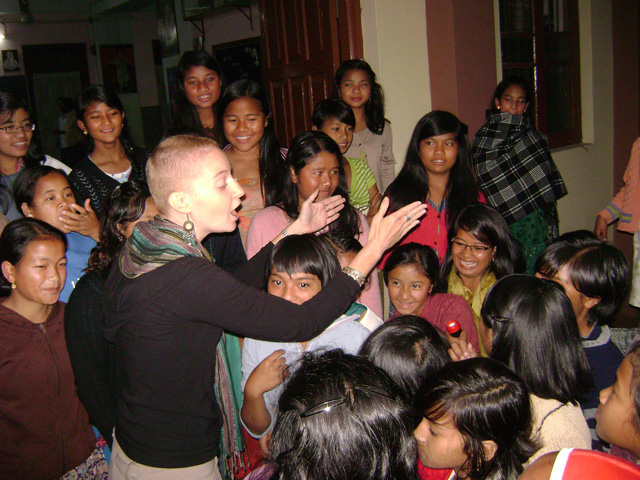 Alumna works to teach, train students in India
By Katie Scaff '13
Since graduating from PLU in 2003, music and vocal performance major Karissa Bryant has travelled the world and returned with a mission: to raise money to open an expanded training center for students in Shillong, Meghalaya, in northeast India.
In November 2010, Bryant spent two weeks teaching students at a village training center called Bellefonte Community College (BCC) in Shillong. There, her eyes were opened to pressing and extraordinary educational needs.
"High school drop out rates are at 70 percent," according to Bryant. "There's no accountability system there."
Of the students who stayed and took their final high school exam, 50 percent failed.
"The biggest problem with education is that students are taught in their native language and then they are expected to pass high school in English," Bryant said. "If they don't get an education, then they have no future."
Bryant worked with the Salesian Sisters, who run BCC, to give students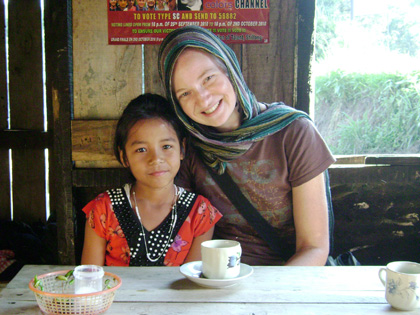 in Shillong a rare second chance. They teach the students, who have usually failed or dropped out of high school, enough English so they can pass the 10th grade level of a high school equivalency test.
Bryant had 55 students at BCC, ranging from 15 to 28 years of age, and far from "ordinary students" by American educational standards.
"I was teaching them 'conversational English,'" Bryant recalled. "Some students were almost fluent and some couldn't understand anything at all."
The center has been successful and helped students reach a better future for themselves and their families, but it's not enough, said Bryant. There are already many more students than the sisters can hold in their bare, makeshift classroom. They want to offer more training opportunities in basic literacy, business, and relevant vocations, and this is where Bryant comes in.
"It become really apparent that my goal in coming back to America was to raise money for this school," Bryant said. "When I got back in April of last year, I started looking into the logistics of fundraising."
She hosted her first fundraiser, Cabaret for Change, on Feb. 8 at the Columbia Center Theater, which raised $5,000. The next event, Yoga for Change, is planned for Saturday, March 31, at Richmond Beach Yoga in Shoreline, Wash. The event runs from 2 p.m. to 5 p.m. and is open to the public. Six instructors will each lead half-hour sessions, and after three hours, the group will have completed 108 sun salutations. There is a $25 suggested donation and all proceeds will go toward building the expanded training center. Bryant, through various fundraisers, hopes to raise $30,000 to begin the project of opening the new, expanded training center.
The goal is to start construction this summer and have the first floor complete and open to students by August 2013.
"I had one year to do this," Bryant said, who plans to return to Shillong later this year. "I'll probably stay a number of months. I would like to help put together the new curriculum. I will definitely be teaching some yoga as well."
Looking back, Bryant said she never imagined she would be doing something like this.
"It was a complete surprise to me," Bryant said. "I primarily imagined myself singing somewhere and teaching music."
Bryant currently teaches music and yoga at studios in King and Snohomish counties. Bryant's mother, Chris Tarling, was less surprised by Bryant's desire to help.
"I think about her high school years, she was involved with community service," said Tarling. "She was also involved in the Miss Washington Pageant for a few years and community service was a big part of that."
Tarling helped Bryant plan last month's fundraiser and has heard all about the need for this center from her daughter.
"Education is about the only way to get out of poverty," Tarling said. "There's a lot of need. There's a lot of poverty."
Bryant hopes to address this need through her fundraising efforts and by going back to volunteer at BCC.
"I'm really happy to help in whatever they need," said Bryant. "It will be a place I continuously go back to teach."