Currently Reading:
Zee rises in global law firm while retaining close PLU ties
March 28, 2012
Hong Kong native Winston Zee rises in global law firm while retaining close PLU ties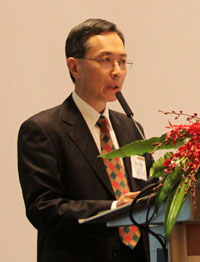 Attorney Winston K.T. Zee '76 says he has learned one truth in decades of practicing law on the international level from his office in Hong Kong. "No one and no nation is an island," he said. "Countries and economies are complexly intertwined and we are truly all in it together."
Now serving on the top executive committee of the global law firm Baker & McKenzie, the lawyer said "it's the law that bridges complexities and brings order to our differences. Without it, there'd be chaos. We need it if we're to make any progress."
Zee has come a long way from his days on the PLU campus when, as a young, wide-eyed kid from Hong Kong, he was exposed to new ways of thinking while developing many of the values he's used successfully in his professional life. He thrived in the smallness of the university and valued its liberal arts tradition and the close attention he received from passionate faculty.
It was a coincidence that found Zee studying in Tacoma. His parents had wished their son to have the advantages of an overseas education, but worried what may come of him "without close supervision," he joked. As it happened, PLU physics professor K.T. Tang visited Hong Kong (Zee was a student at the high school where Tang had once studied) and made an impression on Zee and his parents.
"They thought that if I studied physics in Tacoma, Professor Tang could keep an eye on me," Zee said.
The retired physics professor remembers him well. "He was an excellent student in my physics classes," Tang recalled. "One day he asked me what he should do in the interim. I suggested that he should join the study tour to Africa. There he saw an elaborate funeral proceeding. This made him think about the deeper meaning of life. After he came back, he decided to study philosophy and religion."
Drawn toward philosophy and religion, Zee fondly remembers another professor George Arbaugh. "His basic philosophy class opened my eyes to ideas I'd never considered," Zee said.
Zee remained at PLU after his BA studies to earn an MBA. "For me, it was not just the perfect way to understand complexities of business and problem solving, it improved my English."
At the time, Watergate and the opening up of China inspired Zee to go to law school. He was accepted at Georgetown, earning a J.D. and second master's degree (taxation). At Baker & McKenzie, he progressed through the ranks on matters involving China and developed expertise in taxation and foreign investment issues, often handling major cases involving billions of dollars, including energy and intellectual property cases. Zee later served as co-head of the firm's China practice. It was last year that he was elected by the partners to the executive committee and now travels to meetings throughout the firm's 70 offices across the globe.
Zee's life partner, Peggy Chan '77, runs the publicly listed business she founded in Hong Kong, Excel Technology International Holdings Limited, where she is chairman and CEO. It was after the two left PLU to go to Washington, D.C. (Peggy to attend George Washington University while Zee studied at Georgetown), they decided to marry.
The couple traveled back to Tacoma in 1982 to tie the knot.
"Getting married at the University Chapel seemed perfect for us," Zee said. "It felt right."
David Zee, the couple's son, is attending graduate school at the University of California at Berkeley. The Zee connection to PLU remains strong through Zee's nephews Timothy and Jeremy Zee, now PLU undergrads.
"PLU is very important to us," Zee said, who has hosted events in Hong Kong for PLU alums and visiting Lute faculty and officials. "We feel a part of the PLU family."