Currently Reading:
Caring at the Core: Dr. Jennifer Specht
March 29, 2012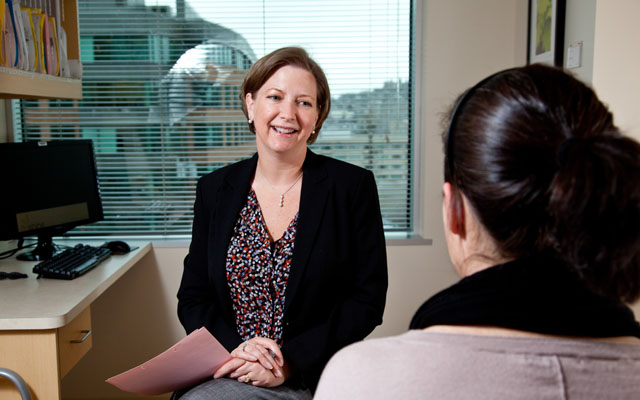 Dr. Jennifer Specht '94
A passion for research and the needs of her patients
By Barbara Clements

It comes down to a series of small steps, fleeting encounters, or choices that may not seem significant at the time, but in the view of hindsight, they become key compass points that lead to one's calling. That is the way that Dr. Jennifer Specht '94 sees it. Specht is an assistant professor in the Division of Medical Oncology at the University of Washington. She sees patients at the Seattle Cancer Care Alliance and has a joint appointment at the Fred Hutchinson Cancer Research Center. She's researching new treatments to battle breast cancer, specifically "triple-negative" breast cancer that is an aggressive type more likely to metastasize and for which there are fewer treatment options. For Specht, her journey started with her family's deep Lutheran roots in Kelso, Wash. She knew she was probably going to attend PLU and study science after attending the PLU Summer Scholars program. (She didn't know she'd also meet her husband there, Erik Brannfors '95.)Once she arrived on campus, the biology major met now-retired biology professor Art Gee, who ignited her passion for research. Gee encouraged her to apply to medical school, which she did, graduating from the University of Washington in 1999.
"Gee was one person at PLU who made a big impact in my life," she said. And she's so glad she took the plunge into med school and into research. After graduation, she worked as a research fellow at the National Institutes of Health in Bethesda, M.D., and returned to the University of Washington and Fred Hutchinson Cancer Research Center where she completed her residency and fellowship training. Specht was recruited to the faculty in 2006. She absolutely knows she's found a right fit for her passion.
"I work with talented, brilliant, and compassionate colleagues, and the women who fight this disease are truly inspirational."


Read how Dr. Greg Aune '97 found his passion for medicine >>
Return to the Caring at the Core main page >>