Currently Reading:
Caring at the Core: Dr. Nathaniel Schlicher
March 29, 2012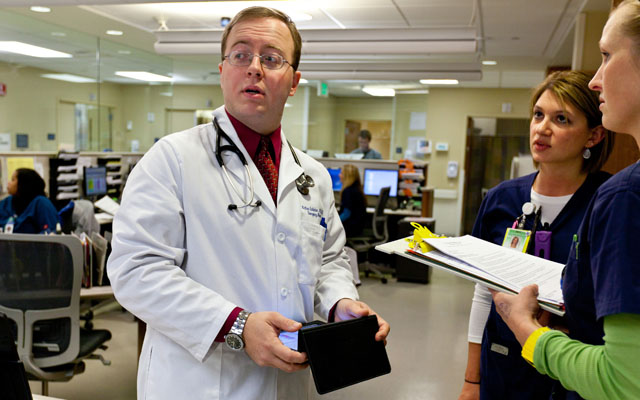 Dr. Nathaniel Schlicher '00
The need to 'care for the whole patient'
By Chris Albert
To say Nathaniel Schlicher '00 was born to be a doctor is not much of an over statement.
"I got the bug early," he said. "It really started in the early single digits."
His mother, Carol (Martin '75) Schlicher was a nursing graduate from PLU, and his father was a hospital administrator. So talking about health care was common around the dinner table.
Schlicher also got the college bug early. He started PLU at 14 years old and graduated at 17.
While working in a clinic before and during PLU, he found himself drawn to the ER. Working with patients for the first time, he knew this was the path he was meant to be on.
He also knew that, as a 17-year-old college graduate, he had some time. His lack of life experience kept him from applying to medical school immediately.
"I didn't want to work in a lab. It didn't sound fun to me because I enjoyed caring for patients," he said. "I wanted to care for the whole patient."
So, he applied to law school, earning his J.D. before getting his M.D. The two degrees have allowed him to work not only clinically, but on an administrative level helping to shape patient care policies.
"It's been a great way to mix the two," Schlicher said.
The ER isn't for everyone. "You have to enjoy the day-to-day practice of caring," he said. "You have to bring that Christian ethos to it that at times is challenging."
Read how Dr. Jennifer Specht '94 found her passion for medicine >>
Return to the Caring at the Core main page >>