Currently Reading:
Skokomish Nation tribal member brings emotion to Earth Day
April 1, 2012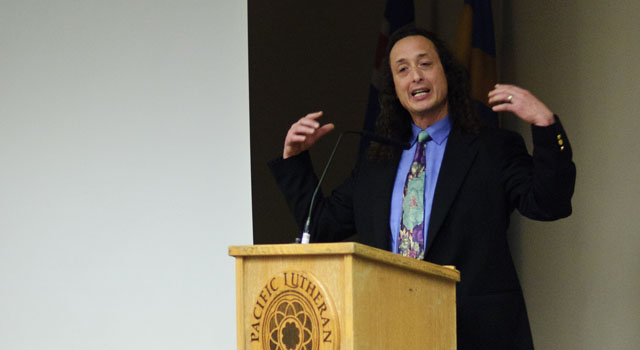 Skokomish Nation tribal member brings emotion to Earth Day
By Katie Scaff '13
We need to get back to the environment, because that's where peace and harmony exist, according to Michael Pavel, Skokomish Nation tribal member and Professor of Education Studies at the University of Oregon.
"We are facing difficult and uncertain times in our future and it's all related to the environment," said Pavel, whose traditional name is CHiXapkaid. "We need to connect to those animal people and we need to connect to those plant people."
Pavel lead a special presentation for Earth Day, entitled "Connecting to Everything on Earth: Its Land, Waters, and Peoples (Plant, Animal, and Human)," on Tuesday, April 17, in the Scandinavian Cultural Center.
Rather than telling the hundred-some students, staff, faculty, and community members how to connect to the environment, he shared a sacred song, which brought everyone in the room together with the environment.
Before he began, he told the room, "I want you to listen with your compassionate hearing. Just empty your mind. Give it a chance. Relax and enjoy it. You'll be part of something you'll never forget. We're going to connect everything on earth in this moment in time."
His song had four verses, which began with him singing and slowly brought in the audience, who just listened to the first verse, then tapped their fingers, hands, and feet to keep the rhythm in the second verse, joined in and hummed the third verse, and then closed their eyes to sing the fourth verse on their own. The song ended, but the room remained silent. You could hear everyone breathing.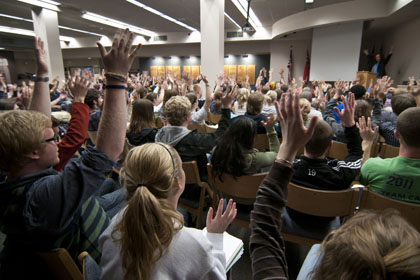 After the moment of silence, Pavel reminded the audience why they needed to connect to the environment."To connect to everything on this planet, have an awareness that there is something beyond on own lives," Pavel said. "To start this off, recognize each other. Let's pick this up and make it part of our culture. Make the commitment to wake up tonight and go in tomorrow to greet each other on this path."
Beyond recognizing our fellow humans, Pavel also encouraged the audience to recognize other people.
"For the plant people, I want you to ask to walk on them and look on them and touch them. You thank those plants for that," Pavel said. "Begin to identify them. They're there and will continue to be there. Realize they have a name. And the animals too, recognize them."
After his presentation, the conversation opened to the audience, many of whom commented on the effect Pavel's song had on them.
"We're all one and the same, whether we are plants, trees, or rocks," said "Tosh" Kakar, assistant professor of Computer Science and Computer Engineering at PLU. "I just hope we can take something from this and take it into the future."
Biology and environmental studies double major, Kristin Neuneker 14', also appreciated Pavel's song and perspective.
"He offered a different perspective on the environment than what we learn in school," Neuneker said. "I enjoyed the song the most because it made us feel connected. We were all singing in perfect unison."
While reminding his audience that there is much work to be done, Pavel also didn't let them overlook the work that PLU is already doing for the environment.
"Student after student proved to me change in this world is occurring at a classroom at Pacific Lutheran University," said Pavel, who sat in on an environmental studies capstone class earlier in the day. "Your commitment to the environment is a hallmark to what an institution should do."