Currently Reading:
Tearing Down the Studio
April 2, 2012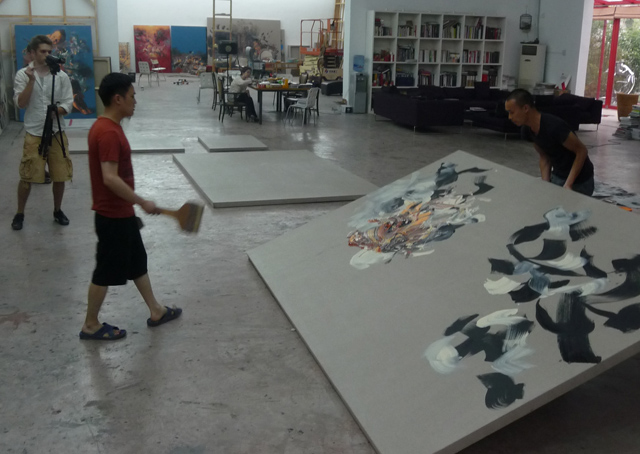 Tearing Down the Studio
By Chris Albert
In a studio in the Blackbridge Art Village of Beijing, world-renowned artist Zhong Biao speaks to his assistant about what he has planned for his next project.
Observing on the outside is Paul Manfredi, associate professor of Chinese, who has known Zhong since 2005. At first, Manfredi had a simple fascination with Zhong's art, particularly his paintings. That developed into a budding friendship and, later, Zhong's work became a focus of Manfredi's academic writing.
But here, Manfredi is doing something different — he is documenting Zhong, his work, and his community through a camera lens.
His work has been on display in exhibits throughout the world, but the place where he creates it may soon be destroyed.
Manfredi has taken on the project of filming a documentary on the Blackbridge Art Village, which is slated for destruction at the hands of the Chinese government.
Manfredi has been able to pursue the documentary through Kelmer Roe and Wang Center grants.
"The goal is to achieve or provide an accurate snapshot of what it means to be an artist in contemporary China," Manfredi said.
The story of the Blackbridge Art Village is far from simple.
Would they benefit more financially from sub-leasing to officially sanctioned tenants? Or not? What about the community that is already there – what rights do they have? Does the fact that Blackbridge is an established, functioning (albeit technically illegal) community matter? Does it matter that the artwork that is being created in Blackbridge appears in galleries in districts in China and throughout the world?
The questions continue to pile up, even as Blackbridge seems destined to be torn down within the year. Manfredi has one more trip to China and one more question to answer: What's next?
"Do you tear it down and reconstruct exactly what was there, but with approval this time?" Manfredi said. "It's very open ended."
We will all know in the Spring of 2013, when he hopes to have the documentary finished.