Currently Reading:
A life of service after PLU
April 2, 2012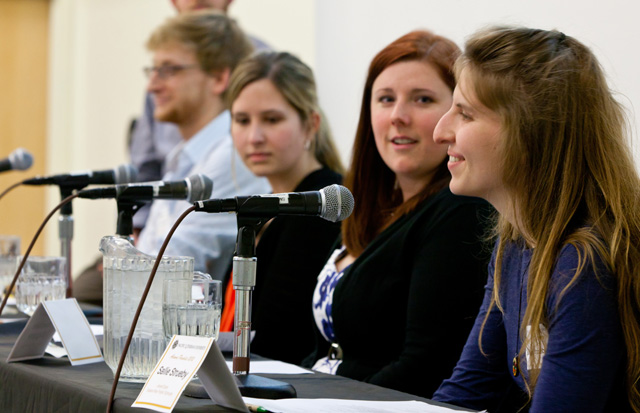 A life of service after PLU
Volunteer service is about taking what you're learning in the classroom and making it bigger, according to four recent PLU graduates.
The grads, Sallie Strueby '11, Austin Goble '09, Ruth Tollefson '09, and Raechelle Baghirov '05, shared their experiences in a panel discussion on paid service opportunities on Thursday, March 22.
"The phrase 'a life of service' was thrown around a lot," Baghirov said of her time at PLU. "It made you look at what you were learning and how it could be taken to a higher level. I may not have thought of it as 'this is my wild hope component' but it was."
Baghirov studied abroad in London during J-term her last year at PLU and knew she wanted to spend more time abroad. She applied for the Peace Corps after graduation and spent three and a half years volunteering in Azerbaijan.
"Every volunteer service different and it is what you make of it," Baghirov  said . "Meaningful service not only changed the life of those I worked with, but it changed my own life as well. You get more than you give."
For some, like Baghirov, volunteering was a way to fulfill two passions, serving others and traveling. For others though, like Goble, who volunteered with Lutheran Volunteer Corps and Americorps, volunteering was a way to transition from college life to the "real world."
"I was excited about the opportunity to slowly move into something else," Goble said .
Goble did two years of service. He spent his first year working with Lutheran Volunteer Corps affiliate Eastern Nebraska Community Action Partnership in Omaha. His second year was with Peace Community Center, an AmeriCorps affiliate in Tacoma's hilltop neighborhood. The relationships he formed during these years had a large influence on him.
"I'm the one gaining from their life experience," Goble said. "It's a lot of personal growth, a lot of self-examination and getting a better understanding of who I am–that has shaped me immeasurably."
Though they had different experiences, the other panelists echoed Goble's words.
"It's self-sacrificing but it's so worth it," Strueby said, who is currently volunteering with Americorps at Federal Way Public Schools. "I went into this experience hoping to mentor, inspire, and teach these students and I know I'll leave with it being the other way around."
Volunteering is sometimes seen as a detour on the way to a career, but often it can lead to and better prepare you for your career, according to the panelists.
"It's mind-blowing how much you change," Baghirov  said. "It forces you to look at yourself and imagine what you're capable of. I took away this sense that I was self-sufficient. I have the power to change my own life and my own world in everyday decisions."
For Tollefson, her service at Peace Community Center turned into a job. She's now the elementary programs and public relations director for the center. Looking back, she recognizes how her experiences at PLU prepared her.
"When I was a student here I was really really involved in student leadership and I think that is what helped me feel confident enough to go off and do service in a different community," Tollefson said.