Currently Reading:
Engineer turned poet named Washington State Poet Laureate
April 26, 2012
Engineer turned poet named Washington State Poet Laureate
Realizing her passion and remarkable talent for poetry in her thirties, engineer-turned-poet Kathleen Flenniken's work was bolstered when she received Washington State Poet Laureate earlier this year.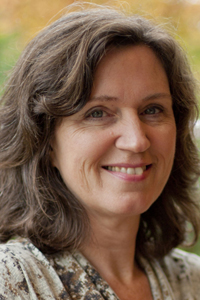 Sponsored by Humanities Washington and the Washington State Art Commission, Flenniken received the prestigious position of Washington State Poet Laureate for 2012-2014. It's an honorary position awarded every two years that recognizes a distinguished poet for his or her work in the community for the promotion of poetry. As Poet Laureate, Flenniken acts as ambassador, traveling the state, working with the community to build awareness and appreciation of poetry."It seemed like I was already doing those things on a small scale," Flenniken said. "But this helps me kind of take it on the road."
Through this two-year position, Flenniken is working to introduce elementary school children in grades 3-5 to poetry in areas of the state without strong art programs.
"Kids at this age are really starting to develop their metaphorical minds," said Julie Zeigler, executive director of Humanities Washington. "It's a really terrific time to be working with them."
Although she is flattered to have received this award, Flenniken never imagined herself a poet until attending PLU.
"I'm a slightly offbeat PLU alum," said Flenniken of her PLU experience.
Not part of a traditional degree program, Flenniken was a member of the first full graduating class of the Rainier Writing Workshop at PLU, receiving a Master of Fine Arts in Creative Writing in 2007.
Trained as an engineer with degrees from Washington State University and University of Washington, it was a night class designed to merely get her out of the house that got Flenniken really interested in poetry.
"I fell madly in love with poetry from the first night of that class," Flenniken said. "I took it very seriously from the beginning."
In the early stages of her career in poetry, Flenniken wrote about the everyday, domestic life. But now, she is drawing on her roots as a Richland, Wash. native and taking on more serious social issues, including those surrounding the Hanford nuclear site.
"Her poems go from the everyday experiences that we can all relate to, to the more serious topics that she handles so beautifully," Zeigler said.
Growing up in Richland, Flenniken experienced firsthand the social implications and secrecy surrounding the events of the Hanford nuclear site, which she explores in her book, Plume.
"I'm interested in the way our personal lives interact with the political direction of our country," said Flenniken of her poetic inspiration. "Thinking about secrecy and the damage it can do to a community and to a society."
In addition to her work with young students, Flenniken also engages with poets across the state by highlighting their wide array of talents through her poetry blog, The Far Field.
"I want to raise people's awareness," Flenniken said.