Currently Reading:
PLU on Wall Street
May 2, 2012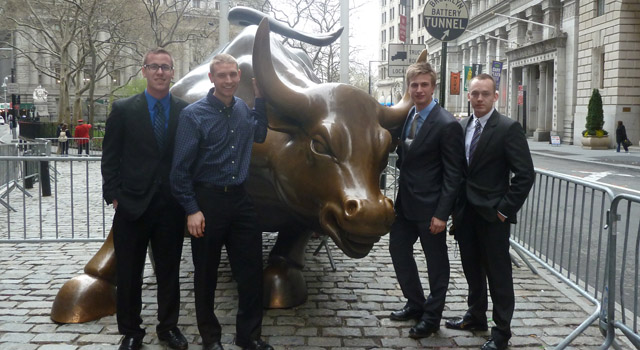 Lutes on Wall Street
This spring, five PLU students and one professor were checking into their hotel in New York City for the G.A.M.E (Global Asset Management Education) Forum, when it dawned on the students they were really here and this experience was really happening.
As Mary Lund Davis Student Investment Fund board members, the students were in the Big Apple to learn about the world of investing and how their portfolio would be viewed by power brokers of the industry. The group placed fourth in the portfolio competition.
"When you're checking into the Sheraton Hotel in a full suit it finally hits you," Phillip Magnussen '13 said. "This is happening."
The members – Magnussen, Arne-Morten Willumsen '13, Cameron Lamarche '12, Kirk Swanson '12, and Martin Vestre '12 – were there with their advisor Kevin Boeh, assistant professor of business and director of the Master of Science in Finance (MSF). The G.A.M.E Forum was founded and continues to be organized by PLU alum David Sauer '81, a professor at Quinnipiac University. It gives students the opportunity to learn about what is going on in the industry from professionals and test their own abilities on what they've learned.
In 1982, Mary Lund Davis set up a fund of $25,000 with the primary focus of giving students the opportunity to gain experience in investment management through real-life investing. Right now, the fund sits at about $145,000. What's gotten the fund to this level can be traced back to the student analysts and the board of directors.
"You cannot simulate this exposure in the classroom," Boeh said. "This experience allows the students to see in action what they learn in my classroom."
"Professor Boeh has been a fantastic resource," Swanson said. "You can tell he's done it."
And he has. Formerly an investment banker, Boeh completed transactions (IPOs and M&A) worth billions of dollars. That's the point of the School of Business at PLU, Magnussen said, to be taught by people who have the academic training and real world experience.
"The faculty is incredible," Magnussen said. "That's the thing you hear about before you even go to PLU."
The combination of strong instruction, classroom foundation, real world application, and invaluable networking opens up the world to how these students learn the art of finance.
It's a foundation, they hope to build on through opportunities like the G.A.M.E Forum. During the portfolio challenge of the forum, the group presented in front of professional fund managers – people who work on Wall Street.
"We had to present why and how we picked our current stocks, and what was our underlying strategy. Also we presented our portfolio against benchmarks to showcase our historical performance," Willumsen said.
Along with the presentation the group was able to be involved in discussions and workshops that relate to investing, how to properly manage accounts and different types of market trading.
"These are industry leaders discussing on the panels and workshops," Magnussen said. "That is an unparalleled opportunity for any finance student."
This opportunity to grow and learn didn't stay in New York either; the group brought back a new approach for how they'll manage the Mary Lund Davis Student Investment Fund. The model had been working, but explaining and recording the process of why and how something was chosen as an investment wasn't always clear. And each year a new crop of board members wouldn't have the insight into why certain decisions were made. Since attending the conference, the executive board has been working on writing a strategy that puts in place protocols to answer those questions and concerns.
In a way, it's an opportunity to make the club function on a more professional level, with tools to provide a learning opportunity and growth opportunities for anyone who has an interest in learning about investing, Willumsen said.
"We're trying to make the foundation," he said.
Any student who has an interest in investing is welcome, he said. This club isn't limited to finance students.
"I started with a blank sheet of paper," Swanson said, an economics major. "I would have never have gone out on my own to learn how to invest anything."
He said it has provided a broader spectrum for how he sees economics as well as finance. Not to mention the leadership roles each student on the executive board has had to undertake.
"It's a great experience," Swanson said. "You learn a lot about yourself."
FIND OUT MORE
For those invested in joining the Mary Lund Davis Student Investment Fund check out one of their weekly meetings Thursdays, at 7:30 p.m. in Morken 124. All majors are welcome. Email sif@plu.edu for more information.