Currently Reading:
Student discovers sustainability, finds passion
May 1, 2012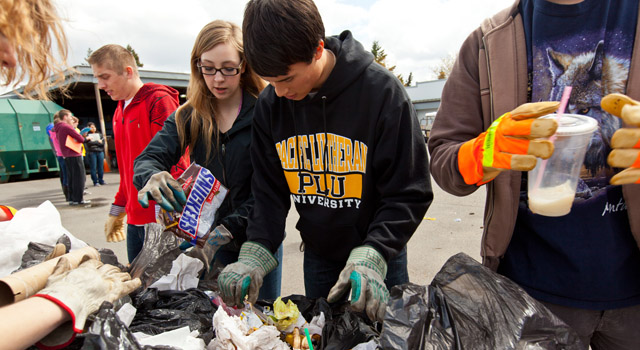 Student discovers sustainability, finds passion
Like many students, Sara Patterson '14 knew PLU was all about sustainability, but she didn't know what sustainability really meant.
Patterson came to PLU from a small town in Idaho and hadn't learned much about sustainability or recycling, because "it was just never made into a big deal."
"When I came onto campus as a first-year, I had no idea what was recyclable—I didn't really have a definition of what sustainability was," Patterson said. "In school, we never had recycling. It was never really something talked about to me."
Coming to PLU and getting a job with the Sustainability Department changed all that.
Patterson was hired as a sustainability technician during her first semester in the fall of 2010, just before Chrissy Cooley was hired as the sustainability director.
At the beginning, Patterson just sorted recyclables for Environmental Services, but Cooley's hiring brought significant changes—Cooley merged Environmental Services and Sustainability, creating the new Sustainability Department. She also gave each student his or her own project to work on.
"I've become more informed and allowed opportunities on campus to expand what I do," Patterson said.
After spending some time in the department and finding her own meaning of sustainability, Patterson wants to help other students do the same. As an education major, Patterson decided she wanted to start a first-year education program to teach first-years about the meaning of recycling and sustainability.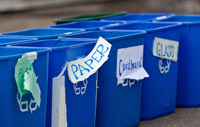 "Education is the start of every single positive change you can make," Patterson said. "There's so many opportunities to reduce your impact."
Patterson's experiences with sustainability will come full circle in the fall of 2012, when her program will be implemented in Writing 101 and 190 courses. She will work with the other sustainability technicians to lead 10- to 15-minute presentations, per the professor's request, during classes in the fall and spring. Their presentations will tell first-years what sustainability is and what programs the department runs, and conclude with a conversation about what generally prevents people from being sustainable and what each student can do to be more sustainable.
"The Sustainability Department really wants these values to be understood from the moment students enter campus," said Cooley, Patterson's boss. "Sara's project has been a long time coming and it could be the single most effective thing the sustainability department has done."
"Part of the culture on campus is to reduce our impact on the earth,"  Patterson said.
In particular, Patterson said she wants students to realize the importance of the little things.
"A lot of people think you have to do big things," said Patterson. But she disagrees. "Turn off the lights when you leaving the room, use your bike when you're going to the grocery store. Little things like that add up."
More tips from Sara Patterson:
If you're not sure if something is recyclable, throw it in the recycling anyway.
Why? Sustainability sorts through recycling before it is taken away, but what's put in the trash is taken straight to the landfill.
Use reusable mugs when you're buying coffee and other hot drinks.
Why? You get a discount at coffee stands on campus, so they will eventually pay for themselves, and you aren't wasting a cup every time you buy.
Take a class that involves some sort of environmental studies, regardless of the department.
Why? Education allows for more informed decision-making and is key to change.