Currently Reading:
New president arrives at Pacific Lutheran University
June 1, 2012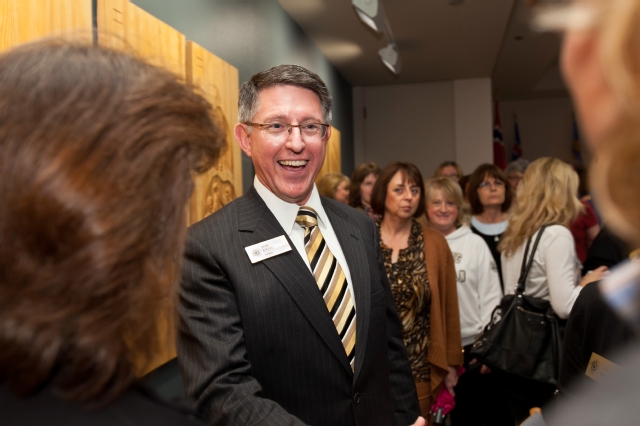 President Thomas Krise welcomed to PLU
Over 200 faculty, staff and students enthusiastically greeted President Thomas Krise and Patricia Krise on Friday, June 1, at a reception in the Scandinavian Cultural Center.
It was the first time that the campus community had seen Pacific Lutheran University's 13th president since Krise visited in early February during the presidential search process. The search committee and regents chose Krise as PLU's president on Feb. 28. His first official day on the job was Friday, June 1.
Krise thanked the campus community for the turnout, and then turned to one of his favorite topics: The importance of a liberal arts education.
"The liberal arts education and its value is something we all need to talk about," Krise said.
It was this enthusiasm and dedication to the liberal arts, and a deep connection with the faculty that first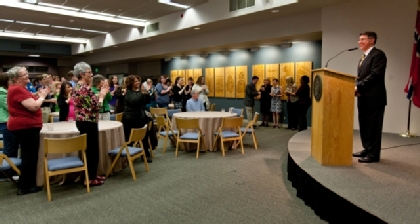 caught the attention of many on the search committee, said Kevin O'Brien, assistant professor of religion, and search committee member.
"Tom has a legacy of service and thoughtful inquiry," he said. "In each place he's been at, he has served with fierce intelligence, creativity and a collaborative approach."
Angie Hambrick, director of the PLU Diversity Center, and another search committee member, noted that Krise is deeply committed to diversity. In addition, his references said "he was a strategic thinker and planner," Hambrick said.
Before coming to PLU, Krise, 50, has been Dean of the College of the Pacific, the arts and sciences college of the University of the Pacific in Stockton, California.
Prior to his appointment at Pacific, Krise was chair of the Department of English at the University of Central Florida in Orlando. Before moving to UCF, he served 22 years in the U.S. Air Force, retiring with the rank of Lieutenant Colonel. He served on the faculty of the Air Force Academy in Colorado Springs, as a senior military fellow of the Institute for National Strategic Studies in Washington, D.C., and as vice director of the National Defense University Press.
He was the founder and first director of the Air Force Humanities Institute, and deputy head of the Department of English and Fine Arts at the Air Force Academy. He also served as president of the faculty senate there.
O'Brien noted that when Krise made the argument for a humanities institute to the Air Force brass, the officials asked Krise why such an institute was needed.
"Tom pointed to the now iconic pictures of Abu Ghraib and said 'That's why,'" O'Brien recalled. "He said that with the right type of education, a liberal arts education, you learn to treat each other more carefully, and produce better thinkers and better citizens."
O'Brien concluded by noting that Krise "is the president we need and deserve for the next great chapter of PLU history."
Krise's formal inauguration will take place in September.