Currently Reading:
A unicycle, persistence and passion take alum to Nike, then to Olympics
July 27, 2012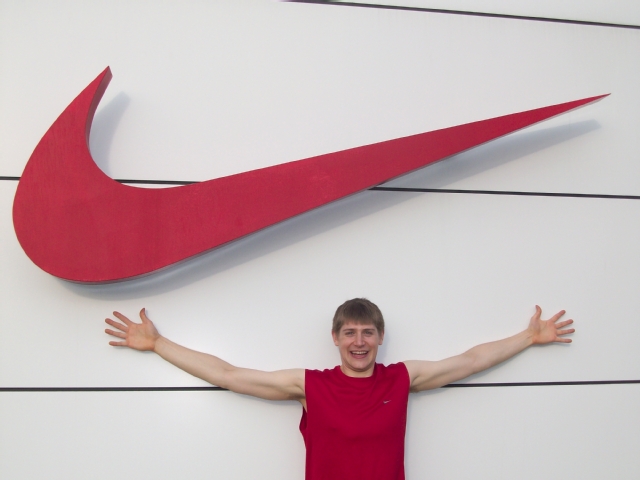 Focus, persistence land alum at Nike, and this week, at the Olympics in London
By Barbara Clements, University Communications
A passion for teaching, an interest in Nike and, oh, a unicycle. Who knew this eclectic combo would translate into an airline ticket to London next week for Tyson Bendzak '10.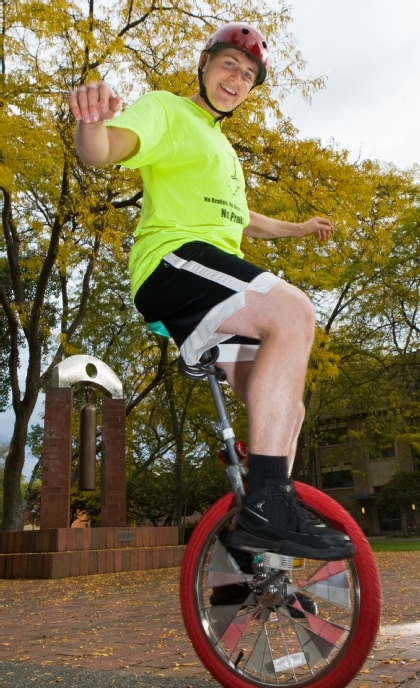 As he was preparing to leave this week for the 2012 Olympic Games to cover the events for Nike, Inc. employees world wide, Bendzak still couldn't quite believe it."This is such a big surprise, " said Bendzak, 24, who works as a teacher in Nike's early childhood education program for its employees in Beaverton, Ore. "I've never been out of the U.S. before."
Bendzak had entered a contest open to all Nike's 38,000 employees this spring. Through essays and video applications, Nike chose three employees – one being Bendzak – to cover the games over its three-week run.  His time covering the games will be from Aug. 2 through 8. Afterwards, he plans to sightsee a bit before returning to the U.S.  after the closing ceremonies.
At first, Bendzak wasn't going to fill out the application, but then decided he might as well go for it.
"I wasn't sure I had time to do it then," said the physical education major. "But then I didn't want to look back and regret  it."
It took several weeks to put together the video and written applications – Bendzak did the video shoot on his unicycle – and then he submitted it in June. A month later, he found out he'd been picked as one of the three employees going to London. Nike plans to have Bendzak do some of his reports on his unicycle, which they will ship over to London for him. Bendzak started a unicycle club (L.U.N.I.C.Y.C.L.E.R.S.) when he was at PLU, where the group is still going strong.
For the Alaskan native, working at Nike has been a dream come true – much less being sent to the Olympics on behalf of the sports giant. When Bendzak was a student at PLU, first in Pflueger and then in South Hall, he'd scribbled a goal on a piece of paper which stated simply "Somehow, someway, someday, I am going to work for Nike." He then framed it and pinned it above his desk.
Bendzak was first fascinated with Michael Jordan, and then with Nike and the development of basketball shoes. He'd still like to design/develop shoes for Nike someday. One of the reasons he picked PLU was because of its marketing and business program, as well as its focus on helping students find their vocation and passion.  He later switched from business to physical education and focused on teaching, but still had a laser interest in Nike. He told everyone he knew he wanted to work for the company, and applied for several jobs at the corporation after graduation. Colleen Hacker, professor of movement studies and wellness education at PLU, encouraged Bendzak to write down his goals, but also to go on information interviews even if no job was available.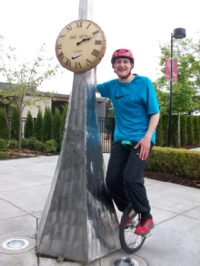 This persistence and goals setting paid off when Bendzak finally landed a job at the child development center in 2011."I would just say pursue your passion," Bendzak said of students trying to figure out what they want to do, and just how to go about landing a job after graduation. Be willing to volunteer and show interest, even if a job isn't immediately available in a field, he added.  Bendzak flew down from Alaska to take a tour of the early childhood center at Nike with its director, even though no job was immediately available.
"It was a chance to get past the paperwork and get to a real person," he said. " The director told me later that she looks for that, steps that show commitment."
That, and always keep your hobbies – like unicycle riding – up to date. Who knows when they'll be needed?