Currently Reading:
Skones Era Choir of the West Reunion
July 27, 2012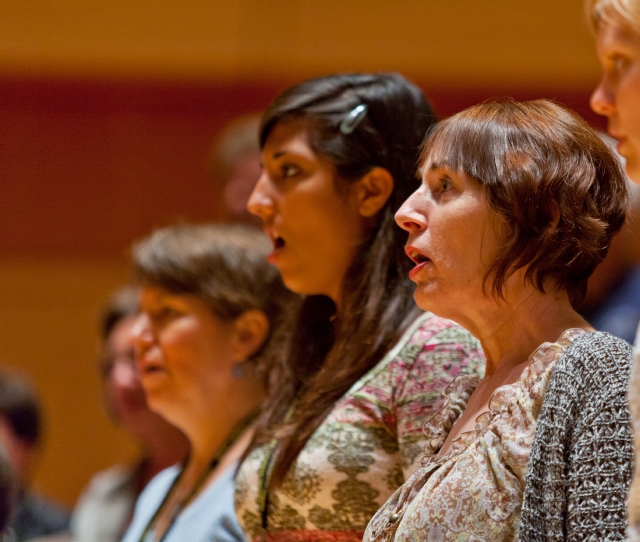 Choir of the West reunion and benefit concert draws alumni from across the globe
By Barbara Clements
University Communications
For Audrey (Coryell) Okuda '78 traveling 5,000 miles to be with her colleagues in the Choir of the West was a no-brainer, of course she wouldn't miss the concert or the reunion of Choir of the West alumni that took place on the PLU campus in mid-July.
She had been planning to go to the U.S. to visit her sister anyway, so why not now, she laughed as she gathered with other COW alumni outside Lagerquist Hall before rehearsing for a Skones Era Choir of the West Reunion Concert, which took place on July 22.
"Of course I'd be here, I just love this," she said.
Okuda was with the Choir of the West under long-time director Maurice Skones between 1977 and 1978. Skones was the Choir of the West director at PLU from 1963 to 1984. In all, he taught 54 years at the university, according to his son, Paul Skones '74, who is also a music teacher in the Portland area.
Even though Skones directed a choir, that doesn't mean you could hide among the voices, Okuda said. If you were off key or missing a word, "he knew immediately who did it," she said.
Paul Skones estimated there had been choir reunions about every decade since 1992, but this one was specifically dedicated to his father.
"I am really happy all these people came," he said, looking around as the auditorium outside Lagerquist eventually filled with 120 alumni.
During a rehearsal Friday afternoon before the concert, PLU's new president, Thomas W. Krise popped in to welcome the alumni, and note that the Choir of the West is one of the most important faces PLU has out in the world. And given the many majors that join the choir, it's also a living example of what a liberal arts university means.
Proceeds from the concert benefited the Maurice and Patricia Skones Music Scholarship Fund at PLU.