Currently Reading:
"A University of the First Rank"
August 29, 2012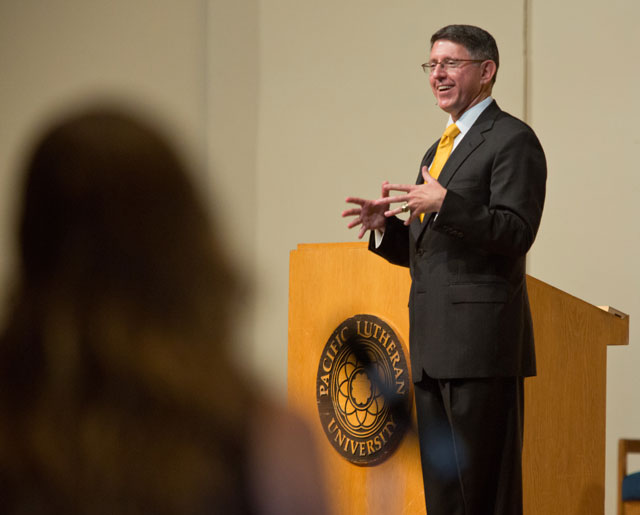 "A University of the First Rank"
Good morning and welcome to the 2012 Fall Conference of Pacific Lutheran University. I think it is remarkable that we at PLU manage to get all the staff, faculty, and many of the retirees all together to think and talk about what lies ahead for the new academic year. It's distinctive to PLU and characteristic of our collaborative, generous, and spirited culture.
That culture is a product of all of the diversity of talents in this room. It takes a wide variety of skills, abilities, outlooks, and world views to create the PLU experience for our students. Everyone in this room is a key player—the facilities and grounds keeping teams are the Department of First Impressions and they help us all have a magnificent and beautiful campus on which to work; our food services, residential life teams, co-curricular and student life professionals, advisers, I&TS faculty and staff, admissions and enrollment teams, development staff, KPLU staff, and all the administrators, counselors, pastors, associates, financial experts, and of course our nationally recognized faculty members are all critically important to our collective success.
It's also worth noting that at PLU we do very little outsourcing. In fact, we stand out among our peer institutions across the country in how much we accomplish with our own regular employees rather than outsourcing the work to other companies. The great benefit of this practice is that we can really all work as a dedicated team—all interested in the success of PLU—without the distractions of serving some other company or organization and its interests.
Notable, Exceptional Culture
What we have here at PLU is not common. You might imagine that other faculty or staff at other universities have just about the same things that we have here—especially for those who've been here a long time or have only been here at PLU. But, in fact, the culture here is really notable and exceptional, and it is something that I've been hearing about for years and which very much attracted me to PLU. Our strong commitment to the liberal arts tradition, coupled with a vibrant shared governance structure and a spirit of collaboration and genuine care for each other and for our students all adds up to a rare, if not unique environment in which to work and live. I attribute much of this great spirit to our tradition and continuing commitment to the ideals of Lutheran higher education. As I like to say, Martin Luther—Professor Martin Luther—not only made Lutheran universities better, he made all universities better, even Catholic and public universities. In many ways, the superb American system of higher education—with its firm commitment to academic freedom, its rigorous questioning of all received opinions, and its belief in the primacy of reason—is rooted in the great reform and revolution sparked by Luther's protest and his thinking and writing. We are his heirs and I'm sure he would be proud of Pacific Lutheran University.
Getting the Word Out
I know you've been accustomed to hearing a "state of the university" address at Fall Conference, but I thought this year you might prefer to hear instead of my impressions of PLU life so far, my initial sense of our opportunities and challenges, and some sense of where we might be going.
The super Year in Photos presentation gave a flavor of the year in review—and Vice President Steve Olson's report on the great success of the $122 million Engage the World Campaign also gave us some sense of where we've been. I can also report that, thanks to the hard work of people here in this room, our enrollment for the coming year is good. While we're short on the number of first year students, we managed to retain a record number of freshmen from last year, and our recruitment of transfer students and graduate and professional students has been stellar.  So, the enrollment news is a fine demonstration of how well we all work together and contribute to the success of PLU.
I have been hearing about PLU for most of my career, and now that I've been on the road for much of the past three months—to Portland, Spokane, all over Montana, the Twin Cities, Boston, San Francisco, Los Angeles, Salt Lake City, Vancouver, and many different visits to Seattle and other cities in the Puget Sound area—I find that people either have never heard of PLU, or, if they have, they are really excited about it.
I met a woman the other day who has lived on base at Joint Base Lewis-McChord for two years and she had never heard of PLU—even though she lives a mere 12 minute drive from campus.  And, to top things off, she's interested in doing a master's in education and has been poking around looking at programs to enroll in. I remark on this because I think the A Number One thing we need to do at PLU is to get the word out. In marketing language, we have an extraordinary product; now we need to promote it as effectively as possible.
You might think for a minute about how many ways we might get the word out. It's not just having a first class website (which we do now) or handing out good looking fliers at college fairs (although of course we do that) but it's also by getting our faculty and staff better known in the region, the country and the world.  We need to support faculty teaching and scholarship not only for its own sake (and we do that too) but also for the value we gain from having people hear about the work that our faculty and staff do so well here. We need to energize our natural constituencies such as our alumni, our retired faculty and staff, our supporting congregations and synods of our Region One of the Evangelical Lutheran Church in America, our partners in the community, in various groups and associations—and we need to give them narratives to tell.  For those of us who have known PLU for a long time, we don't need a primer on what it is and what it stands for. But many people do and we must provide it.
Positioned for the Future
As everyone here knows, PLU doesn't exist in a vacuum, and the challenges we face as an institution are varied and potentially daunting. The cost of higher education keeps rising, the general economy remains fragile, public support for higher education is declining, and other countries are matching or exceeding us in many measures of higher education. In this climate, PLU is well-positioned. The two most worrisome positions to be in are 1) the strictly undergraduate private liberal arts colleges—particularly those in remote locations that are heavily tuition-dependent and that lack large endowments. The other uncomfortable place for an institution to be in this environment is the large public research university, because of the plummeting levels of state and federal support, the increasing reliance on corporations for research investment (because such support tends to favor applied research rather than pure research, and because such support tends to come with strings attached). The strongest position to be in—or at least the position that offers the most flexibility and options for facing an uncertain future—is the position PLU is in: that is, a largely undergraduate liberal arts university offering an array of select graduate and professional programs.
When we talk to others about our commitment to the liberal arts, it's important to help them understand that the idea of the liberal arts is rooted in ancient Greek and Roman culture and the term describes those skills and subjects that were deemed necessary for the education of free people—libera being the Latin root for liberty. In the medieval period, those arts were identified with seven subjects—grammar, rhetoric, logic, arithmetic, geometry, music, and astronomy. I like to refer to these by name to emphasize that the liberal arts have always included the sciences—and at least four of those seven medieval liberal arts are what we would now call scientific.
We have a popular misunderstanding in the United States that the liberal arts subjects are only the humanities and social sciences, and even some universities establish structures that suggest that the liberal arts do not include the sciences. So, we need to emphasize to potential students and others that a liberally educated person must know the sciences and be able to think scientifically to solve problems in addition to thinking in humanistic and artistic ways.
PLU is at its heart and in its origin a liberal arts college. Beginning with the Master of Arts in Education in 1951, PLU began to offer professional and graduate degree programs that built on the foundation of the liberal arts education and provided more specialized or applied education and training. This is the position that PLU is in now.  We have approximately 92 percent of our students in the undergraduate program and 8 percent in the graduate and professional programs. The task of blending or integrating the benefits of a liberal arts college with a suite of select graduate and professional programs is one that PLU2020 and its predecessors called on us to tackle—and this should be one of the questions we ask ourselves as we decide what we want PLU to become.
Guidance from our Founders
To make the most of our good position in the higher education environment, I would suggest that we need to decide what we all want PLU to look like in the distant future—at, say, our sesquicentennial in 2040, or our bicentennial in 2090. Do we want to continue with exactly the current mixture of programs, degrees, enrollment figures, and so on?  If not, then in what direction should we go? And how shall we decide? …  One way we might proceed is to look back at our history and see if our founders might give us some guidance.
The first president of Pacific Lutheran University, the Rev. Bjug Harstad, wrote in the first issue of The Lutheran University Herald that he and his fellow founders aimed to raise a [quote] "university of the first rank"—his Norwegian text reads "men kunde velvillya MENnesker reise en foershte Rangs Skole, som nu Lutheran University er taenkt til at blive, soa vilde denne samle den unge Slaegt om Sy oha bringe den under en gavenly, foraedlende Indflydelse." That is, "if benevolent people could establish an institution of the first rank, as Lutheran University is now intended to become, then it would gather the younger generation around it and bring it under a beneficial, ennobled influence."—Harstad went on to say in our handwritten Articles of Incorporation that "the object and purpose of this organization [is to] establish and maintain an University or College … for the purpose of educating and giving instruction to the youth of this State, and any and all other States and Countries who may wish to avail themselves of the opportunities offered …" (Articles of Incorporation 5)  Harstad's use of the expression, a First Ranked School—a University of the First Rank, coupled with his expectation that we would attract students from well beyond the newly admitted state of Washington to include students from other states and countries suggests that we have aimed from the beginning to be more than an institution of merely local prominence. It also suggests that we would become engaged in international education, which of course we have done with great gusto.
The Pathway to Distinction
We have also grown up as an institution within a number of sometimes overlapping circles of character and identity.  As we begin discussions about what we aim to be in the distant future, I would encourage us all to think about where PLU falls within these various groups—that is, when someone mentions a group of colleges and universities, at what point does PLU get mentioned? As everyone here knows well, PLU was one of six colleges established by Norwegian Lutheran pioneers—the others are Luther College, Concordia College Moorhead, Augsburg College, St. Olaf College, and Augustana College in South Dakota. We are also one of 26 colleges affiliated with the Evangelical Lutheran Church in America, some of the other prominent members of which include Gustavus Adolphus College, Carthage College, Wagner College, and Gettysburg College. We are also one of 44 colleges that are members of LECNA, the Lutheran Education Conference of North America, which includes colleges affiliated with the Lutheran Church Missouri Synod, notably the consortium of Concordia Universities. So, to pause there, what would it mean to be a university of the first rank in the estimation of people aware of the institutions of Lutheran higher education?
PLU is also, of course, one of the ten members of the Independent Colleges of Washington, which includes the University of Puget Sound, Whitman College, Seattle University, Seattle Pacific University, Gonzaga University, and Whitworth University. What would it mean to be a university of the first rank among these institutions?
We also belong to the Northwest Conference of NCAA Division III, and that group includes several of our ICW colleagues as well as Pacific University, Lewis & Clark College, and Linfield College. And speaking of athletics, it's worth remembering that PLU is a proud member of Division III of the NCAA—which means we do not grant athletic scholarships and are committed to a developmental model of college sports that places athletics squarely within the academic mission of the institution. So, it's worth thinking about becoming a university of the first rank in the estimation of the most notable institutions in Division III. This group includes liberal arts colleges like Pomona College, Colorado College, Grinnell College, etc., as well as some major research institutions like Johns Hopkins University, Case Western Reserve University, Tufts University, Carnegie Mellon University, and the University of Chicago. Division III also includes institutions that look more like PLU (in that they combine liberal arts with select graduate and professional programs), these include Willamette University, Trinity University in San Antonio, and Wesleyan University.
From what I've been able to discern from PLU2020 and from conversations over these several months so far, it is clear that we aspire to be a first class liberal arts university with a strong commitment to superb teaching and a select suite of distinguished graduate and professional programs. I also discern that we aspire to be especially notable for our tradition of Lutheran higher education, for our commitment to our membership in NCAA Division III, for our ability to help students discover their vocation in life, for our engagement in very high quality international programs, and for our fostering of robust faculty-student collaborative research and creative projects. All of that is fabulous, and I heartily endorse all of it.
But what I need as your chief spokesman, and what we all need whenever we're talking to others about PLU, is a clearer sense of exactly what we are, where we are going, how will we know when we get there, and how will we know how well we're doing? In short, what does it mean for PLU to become a university of the first rank?
Just to give some examples of the kinds of things we might consider together.  Let me suggest that
If we are committed to being distinctive for our international education, what goals should we set for ourselves?  We now have nearly 50 percent of our students doing some form of study abroad. Ten years ago, that figure would have been among the best in the country.  Today, though, many other colleges have caught up with us and even surpassed us—note that St Olaf boasts of two thirds of their students doing study abroad. We can blindly race St Olaf and aim for three quarters by 2020, or we can aim to do more robust study abroad, and/or increase the percentage of international students we have, and/or develop a broader intercultural relations program that blends all the international elements with domestic U.S. programs to get students engaged with people from immigrant groups or other cultures that might be different from their own
Take for another example faculty-student collaborative research and creative projects: at the moment, we don't have a good clear picture of how many of our students are engaged such collaboration. At best, I would say, we are able to offer such an opportunity to almost any student who expresses interest, but that we are probably not able to provide every student with that chance, much less to make it a graduation requirement. This kind of undergraduate research has been spreading throughout American higher education—thanks in no small part to the success of our students and our faculty who have served as role models for this form of high-impact education. But this also means that our ability to claim this as a distinction is reduced and that we'll need to figure out how to stay on the cutting edge.
And for a third example, our commitment to helping our students figure out their calling in life—their Wild Hope for their futures—is something PLU is really noted for—and in my travels this summer, I have the impression that we're doing this as well as any other college.  But, the idea of fostering a sense of vocation is a key feature of Lutheran higher education, and so it is also much talked about by our peer institutions in the ELCA and LECNA groups. This pathway to distinction also needs to have some sense of a clear goal and milestones. We might think of some of the goals set forth for the Career Connections program—and we might establish some specific goals for retention, persistence, and graduation rates, along with placement and employment goals…..
Intentional Planning
As we begin a new chapter in our history, I think it makes sense to look to our great strengths in mission and values as we shape our vision for the next age.  The decennial planning processes that resulted in PLU2000, PLU2010, and now PLU2020 have been important opportunities for the community to think hard about its strengths and weaknesses and its opportunities and challenges. All three documents were important to me in learning about the university and thinking about the way ahead. Now it seems time for all of us to put into operation a planning process that will carry out the intentions of these planning documents. Over the summer, the President's Council (which is made up of the Provost, the Vice Presidents, the Director of Administration, and the Executive Director of Communication) and I have been thinking about this process as strategic planning. We have been keen to make our strategic planning process not some kind of exercise that we do every so many years but rather to embed our planning into our regular processes of governance, using existing structures to the maximum extent possible. We'll have more specifics about how we hope to manage this planning process, but I'd like to take a few minutes to give you all a sense of my own hopes for how all this might work.
First and foremost, this planning will be a shared, collaborative process. We need each of you to be fully engaged to achieve success.  Together we might do the following:
Create a budgeting system that encourages innovation and experimentation
Empower people at all levels to make decisions at the right levels of authority
Encourage pilot programs to test innovative ideas
Create more opportunities for continuing education
Ensure that graduate and professional programs are as good as can be and then carefully consider new programs
Experiment with new or expanded auxiliary services
Experiment with new ways to engage alumni
Encourage real synergy among divisions, schools, offices, and units—to take full advantage of our collaborative spirit and to provide our students with the best possible total experience
Encourage cross-campus conversations about matters of vocation, diversity, social justice, and environmental sustainability with an eye towards being a national leader in examining, articulating, teaching, and carrying out these principles
Consider ways to ensure that every PLU graduate really and valuably experiences every aspect of our vaunted mission statement—thoughtful inquiry, service, leadership, and care for others, their communities and the earth
I'll end my list there—I just want to give a sense of the things I've perceived so far and perhaps a little sense of my own inclinations. These and other initiatives will help set us on the path to becoming a university of the first rank.
Our next steps involve deciding on how to carry out the aims of PLU2020, and in what order. In our various existing committees, departments, and work groups, we may find that some of the recommendations in PLU2020 need to wait until some other decisions are made—for instance, to effectively expand auxiliary services, we'll probably have to decide on a budget structure to support that first. The key questions we should ask ourselves as we do this planning work are: 1) where are we going, 2) how will we know when we've arrived, and 3) what steps to we need to take to get there?
As we ask and answer these questions, we'll need, of course, to carry on with our regular duties while we work on a process to embed strategic planning in our normal structures and ways of doing business. We'll need to move promptly on some things, so we'll naturally have something of a two-speed process to live through. Please know that we aim to keep our collective eye on the long range planning even as we attend to matters needing immediate attention.
Forward from a Position of Strength
Pacific Lutheran University has a long and distinguished history—and a large and loyal and accomplished legion of alumni as testaments to our institution's value. Now, nearly a century and a quarter since our founding, we find ourselves at another historic point in the life of our university.  During some or all of the past 20 years, many in this room worked hard with Loren Anderson to help the University overcome some serious financial difficulties and place the institution on solid footing. Despite the national and global economic malaise of the past several years, we at PLU find ourselves in the happy situation of being able to look up from our hard work of stabilizing the institution to imagine where we might go in the future. The long-range planning processes represented by PLU2000, PLU2010, and PLU2020 have helped formalize the mission and sketched out areas for us to look to for future development and improvement. I am impressed with the hard and good quality work that has gone into these plans, and I am happy to arrive at the University in time to help shepherd the institution through the process of making plans to carry out the intentions of PLU2020.
The greatest strength of our university is that true institutional leadership is about much more than presidents. The deep tradition of shared governance at PLU ensures that the values we hold and the commitments we share are an enduring part of the fabric of the campus community.
I'd like to close with a little meditation on our mission statement and on our university logo. The word in our mission statement that most stands out to me—and which really distinguishes it from other universities' mission statements—is the word "care."—that we educate our students to care for other people, for their communities, and for the earth. I also note that on our logo, the "L" in our middle name reaches under the letter "U" next to it as if to symbolize our collective intention to care for you, for others, for our communities, and for the earth. Please always know that I care and will care for this institution, for everyone in this room, and for our once and future colleagues not with us now or yet, and for our students, who are the real reason we've dedicated our lives to this work.