Currently Reading:
Game On!
August 15, 2012
Game On!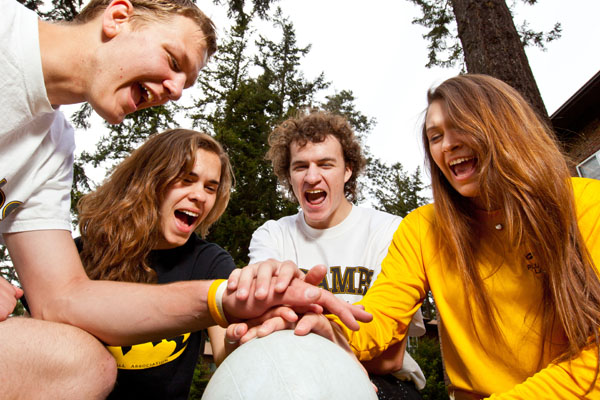 By Steve Hansen
Chris Guiducci '14 likes to yell.  So does his intramural team.
It all started when Chris got together with some people from his residence hall to play in a co-ed volleyball league. At the time, they didn't know each other that well, and they certainly weren't used to interacting as teammates. The play was slow and tentative.
So Chris started to yell. Yell like a howler monkey whose diaper was way too tight.
His teammates – and everyone else in gym, for that matter – gave him the what's up with that guy?! look. Then they realized he was just having fun. His team laughed and relaxed.
And then they started screaming like howler monkeys. They still do it every game.
Since then, the Portland, Ore., native has organized numerous teams – volleyball, softball, dodgeball, basketball – based almost exclusively on students from his residence hall, Stuen. They'll sign-up for any sport they can, and will accept any student with any skill-level. Everyone is welcome.
Sometimes they win championships, and sometimes they don't win any games at all. But that's not the point. For Chris, the idea is to have fun and build camaraderie, like college kids should.
They call themselves the "Stuen Accommodators" – a name he and his team found funny, in a random way. Even funnier to them, was yelling at eardrum-splitting levels weirdly benign cheers like "Accommodate! Accommodate! It's what we do!"
Allison McClure '15 doesn't yell like Chris. But she takes her intramurals just as seriously — if you can call it that. The first-year student from Richardson, Texas, plays on PLU's varsity women's tennis team, but still enjoys playing intramural sports whenever she can. Particularly volleyball.
Even as someone who is able to compete at the collegiate level, Allison finds the opportunity to play intramural sports fulfilling, athletically, mentally – and socially.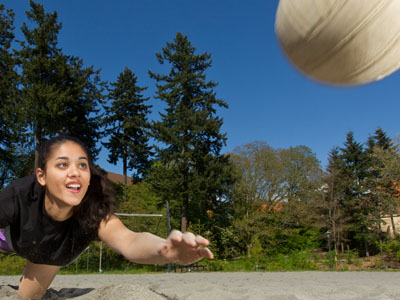 As a member of a varsity sport, Allison can't play intramurals in that same sport. But she can play anything else. Many PLU athletes do. In fact, she has found that many athletes who chose not to play collegiately, because they wanted to focus solely on their academics, have still found much satisfaction playing intramural sports.
"I have a friend who chose not to play collegiate softball, so she uses intramurals to get that team aspect she craves," Allison said. "Intramurals work for her because she can't commit the time to a team sport."
All this to say, the competition level can be pretty high.
Given this, both Allison (and her fellow athletes) and Chris (and his yelling Accommodators) love the intramural program for exactly the same reasons. It is a great way to get exercise and blow off some steam. And it is also a great way to meet new people, get sweaty and have a bunch of fun. It is also a great way to try new sports – even if you have never done it before.
Allison laughs about the first time she played intramural racquetball. As a tennis player, she thought she'd be good. She wasn't.
"All my friends made fun of me – they said 'you should be good at this, why aren't you?'" Allison recalled with a laugh. "It turns out I might be slightly claustrophobic.
And I hate having these crazy bouncing balls buzzing around my head!"
Similarly, she talks about her intramural dodgeball experience. "It turns out I'm just not good at that, either – I'm always the second person knocked out," she said. "But that's okay, because then I could be on the sidelines and heckle everyone else. That's just as much fun as anything."
And that's why intramurals are so great. It is sport. It is also fun.
This all squares with the ethic of PLU to "educate the whole student." Yes, university life is about classes, preparing for a profession, and discovering a passion. But it is also about building relationships – living in residence halls, having dinner with your friends, playing sports in the gymnasium in the wee hours of the night.
More than 400 students play intramural sports, ranging from traditional sports like basketball, flag football and soccer, to more playful ones like 3-on-3 basketball and dodgeball. In all, there are more than 30 sports opportunities a year.
Altogether, it is good for the body, and it is good for the mind.
That's why everyone is here, right?
"I'll play for an hour and then come back to my room, and I'll be more mentally refreshed." Allison said. "It's like a study break."
Chris concurs. "A lot of people will tell you that school is supposed to come first. But sometimes, stress-relief comes before school," he said. "In the end, it helps you do better on your schoolwork."