Currently Reading:
Engage the World
August 14, 2012
Campaign ends, surpasses goal by $22 million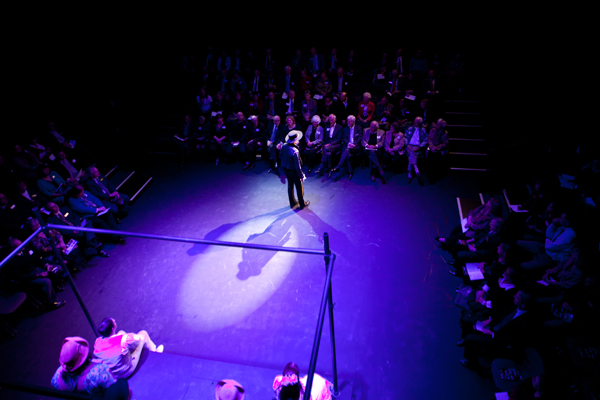 A performance in the Studio Theater in Eastvold Hall, which was recently renamed the Karen Hille Phillips Center for the Performing Arts.
By Greg Brewis
The university's most recent fundraising campaign was launched amid buoyant economic times, in October 2007. By a year later, the bubble had burst, ushering in the Great Recession and years of financial turbulence.
Still, the campaign concluded May 31, 2012, surpassing its $100 million goal with gifts and pledges totaling $122 million.
It raised $10.3 million in endowment for academics and mission and $13.7 million in endowment for student scholarships.
Capital project support totaled $31.3 million for the renovation of academic and athletics, recreation and wellness facilities.
Annual operating support and special projects rounded out the campaign at $23.1 million.
"The overwhelming success of the campaign during uncertain times is a tribute to the loyalty and resolve of the university's alumni and friends," said Steve Olson, vice president for development and university relations.
"Participation in the campaign was incredible," Olson said. "More than 17,500 people provided generous support at all levels. These gifts are having a huge impact on campus today that will continue for generations to come."
Volunteer leadership for "Engage the World: The Campaign for Pacific Lutheran University" was headed by PLU Regent Brad Tilden '83, CEO of Alaska Air Group. He credits Loren Anderson, former university president, for his role in setting campaign priorities and meeting campaign goals.
"President Anderson's vision and leadership quite literally transformed the university," Tilden said. "The relationships he built with alumni, regents and friends of the university, time after time, resulted in generous support both for the mission of the university and for the campaign.
"From major bequests such as the one from Karen Phillips to a new graduate's first gift to the annual fund, Loren knew that donors give from the heart when they believe in the mission. He had the unique talent to connect them to their passion for PLU," Tilden said.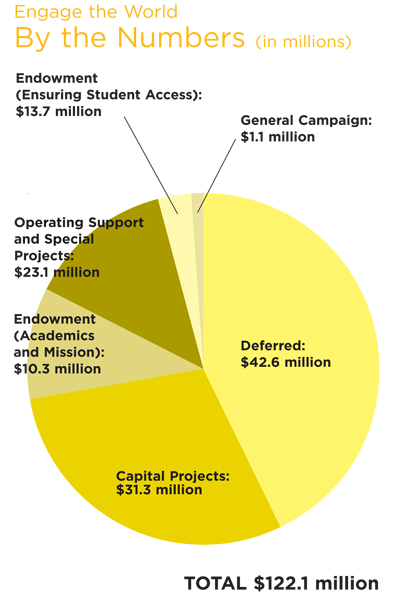 Karen Hille Phillips Center for the Performing Arts
The single largest gift during the campaign was a $15 million bequest from Karen Hille Phillips. Combined with her lifetime giving of $10 million, the bequest made her the university's largest benefactor ever.
Her gifts have supported student scholarships, the endowment and capital projects, including the renovation of Eastvold Hall which was recently renamed the Karen Hille Phillips Center for the Performing Arts.
Scheduled for completion in the fall of 2013, the center will house a remodeled Eastvold Auditorium, the new Studio Theater and the scene shop. It will be the finest performing arts center in the South Sound area.
Tower Chapel will also be renovated, and has been renamed the Ness Family Chapel. It is funded through a generous gift from Kaare and Sigrunn Ness, their children Arne Ness '69 and Cindy Ness, as well as grandson Shane Ness '99.
The Eastvold renovation project has been a decades-long effort. Hundreds of donors – including many through class reunion gifts – have contributed to the project. Fundraising continues for naming spaces and theater seats and for contributing to the Chapel Builders fund.
Student Scholarship Support
Campaign support to help ensure access for all students regardless of financial need came in two forms: annual support and endowment gifts. These gifts for scholarships also enable the university to attract a diverse group of students and enrich the PLU experience for all.
More than 370 people gave at least $1,000 of unrestricted support annually for at least five years of the campaign. Their combined contributions amounted to more than $3,252,544 and much of that support went to student scholarships.
In addition, a total of $13 million was given to the campaign in endowed, named student scholarships of $25,000 or more. That resulted in more than $650,000  year available for student financial aid.
Among the hundreds of endowments established for student scholarships are these:
A Global Scholars Grant that provides $100,000 a year to fund study abroad for low income students. It was first established with a grant from the Bill and Melinda Gates Foundation.
Transfer students studying business now benefit from an endowment established by Doug Saugen '79 and his wife Vicky.
The Katherine Kandel and Elizabeth Oleksak Scholarship for the Women's Center supports student research and programming at the center.
And Lynn (Geschwind '71) Ostenson, in memory of her late husband Richard Ostenson '71, established an endowed scholarship for African-American students studying in the natural sciences.
Endowment for Academics and Mission
Gifts to the campaign led to the creation of four endowed chairs and an endowed professorship. These endowments help attract and retain top faculty, bring public recognition to the university and its programs by providing salary support, travel, research stipends and public programming funds.
Kurt and Pam Mayer, Joe and Gloria Mayer, Natalie Mayer-Yeager, Nancy Powell, Carol Powell Heller and Harry Heller provided major support to endow the Kurt Mayer Chair in Holocaust Studies.
---
Campaign Leadership Council Members
Loren and MaryAnn Anderson

Neal Arntson '58 and Joyce Arntson

Linda (Knutzen) Barbo '63 and Charles Barbo

Bruce Bjerke '72

Robert Gomulkiewicz '83

David Greenwood '74 and Margaret Greenwood '74

Lisa (Miles '84) and Tim '84 Kittilsby

Lisa Kind Korsmo '87 and John Korsmo '84

Knut Olson '90 and Kim Morter Olson '88

Carol Quigg '58

Brad '83 and Danielle '85 Tilden

Dale and Jolita Benson (both '63) established two endowed chairs, the Benson Family Chair in Business and Economic History and the Jolita Hylland Benson Chair in Elementary Education. The Bensons have also been major contributors to many campus projects and programs including endowed support for student scholarships.
An anonymous donor provided an endowment gift to fund a Chair in Lutheran Studies, first held by Professor Samuel Torvend '73.
The Svare-Toven Norwegian and Scandinavian Studies Professorship is named in honor of Trygve Svare and Audun Toven. Trygve Svare taught at PLU for more than three decades spanning the 1920s and 1940s. The late Professor of Scandinavian Studies, Audun Toven, founded PLU's Scandinavian Studies Program. The Svare family and Toven raised the funds needed to establish the professorship.
Other new endowments included a gift from Linda (Knutzen '63) Barbo and her husband, Chuck. It ensures continued funding for the university's Wild Hope Project, including faculty and staff seminars on vocation and student programs.
And a bequest from Norm Forness '58 created an endowment to be used to enhance connections between the university and alumni who live on the East Coast.
Rieke Science Center
Funding for the renovation of the Rieke Science Center was begun during the campaign and will continue as a university priority for the immediate future. The transformed center will provide 88,500 square feet of classroom and research space for biology, chemistry, computer science, geosciences, physics and environmental studies.
Among the projects planned for Rieke that were completed during the campaign was the Louis and Lydia Sheffels Biology Laboratory. It was made possible by the support of Carol (Sheffels '58) Quigg, Jerry Sheffels '54 and the entire Sheffels family. Carol Quigg has also pledged support for a new Rieke greenhouse/laboratory that will support both teaching and research.
Early in the campaign, a nuclear magnetic resonance spectrometer was brought online in Rieke. Faculty and student researchers use it to study the bonding of atoms in a molecule to gain a better understanding of chemical compounds. Funded by the campaign and the National Science Foundation, the facility is one of the first of its kind located at a West Coast undergraduate university. Contributors included Jon '63 and Mari Kvinsland, Naomi (Roe '53) and Don '50 Nothstein, and Gene '62 and Carla '64 LeMay.
Martin J. Neeb Center
A new home for the university's award-winning jazz and NPR news radio station, KPLU, was funded by the campaign. It was named for Martin J. Neeb who served as general manager of the station from 1981 to 2007. Martin's brother, Larry Neeb, a PLU regent, was the largest single benefactor of the building.
Athletics, Wellness and Recreation Capital Projects
Several capital projects funded during the campaign serve the athletic, recreational, physical education and wellness needs of the campus.
Wilson Construction and the Don '74 and Kim '76 Wilson family made the lead gift to fund the construction of an all-weather, multipurpose athletic field on lower campus. Construction on the field and an adjacent new grass field will be complete in the fall.
The gymnasium floor in Olson Auditorium was resurfaced. Olson upgrades also include new bleachers, remodeled locker rooms and a new scoreboard, thanks to lead gifts from the Names Family Foundation and Allan Kollar '70 of AJ Kollar Fine Paintings, as well as many other donors.
Exercise equipment in the Names Family Fitness Center received a major upgrade as a result of a gift from James and Shirley Rippey and PLU Regent Jeff Rippey '78. It houses free weights, resistance machines and cardiovascular exercise equipment.
Additional capital investments by the university on lower campus included a resurfaced running track and new baseball bleachers. A lead gift for a synthetic baseball infield was provided by Regent Lisa (Miles '84) and Tim Kittilsby '84.
Operating Support and Special Projects
The "Engage the World" campaign also provided support for the university's annual operating budget and for special projects.
Each year $2.3 million in contributions to the annual fund went directly to support immediate needs on campus. That support is critical to providing Q Club scholarships to students in need, and sustaining the quality of academic programs, co-curricular activities and the full array of other operations on campus.
A number of special academic projects were also made possible with campaign support. They include $800,000 in foundation support for a new School of Nursing outreach program in geriatric care.
And campaign support provided for activities outside the classroom. Co-curricular support included gifts for Campus Ministry, the Scandinavian Cultural Center and MediaLab.