Currently Reading:
Blue (and Green) Heaven
August 15, 2012

Blue (and green) heaven
Back in high school, Erica Boyle was on her way to a soccer tournament in Alaska when she looked out the window of her plane. "That's a lot of water down there," she thought to herself. "I should check that out."
Below was Puget Sound. For someone who loved to hike and explore the arid slopes of the Rocky Mountains near her hometown of Lakewood, Colo., the lush green mountains and the shimmering blue water had an undeniable appeal.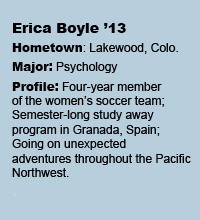 Erica did check PLU – and the region – out. And she's happy she did. Since then, Erica has been snowshoeing at nearby Mt. Rainier National Park. She's been hiking numerous trails in the Cascade Mountain Range, like the thigh-burning inclines of Mt. Si. She's even been able to kayak those great blue stretches of Puget Sound she first saw from her airplane window years ago. For Erica, the Pacific Northwest has been like nothing she could have imagined.
The rain? Yeah, it rains – but that's what keeps the green
so green, and the blue so blue. (Even so, it never prevents Erica from doing what she wants to do.)"Being from Colorado, I've always loved the outdoors," she said. "Venturing to the outdoors of the Pacific Northwest has been incredible and I have realized there is so much opportunity, so much to do. It has been great to be able to experience it — and yet, there is still so much more to explore!"