Currently Reading:
Pacific Lutheran University Inaugural Address
September 4, 2012
Pacific Lutheran University Inaugural Address
Before we get started, I'd like to have a word with the brand new freshmen and transfer students. You are, after all, MY class.  We all become Lutes together today.
I have proof that being a new college president is just like being a new student. First, I'm pretty nervous. And excited.
Second, what did your mom say to you when you said goodbye last Friday? Yesterday my mom said, "Don't worry Tom. You've worked hard to get here, now it's up to you to make the best of it. You can do it." Whether you're 18, 20-something, or 50-something, mom is mom, and she's right about a lot of things. I think even the dads will admit that!
For all of us, though, being nervous about a new school year will soon give way to the excitement of meeting new people and doing new things.
We may get homesick for family, friends and familiar ways of doing things.
But then, PLU becomes your family and your familiar place. Soon it will all be about the hard work and great fun of living the PLU experience. One day you wake up and you REALLY feel it: "I'm a Lute." I think that day came for me this morning! And, looking at you now, I KNOW that feeling lasts a lifetime.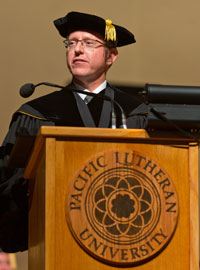 And so our celebration today is two-fold. We celebrate the beginning of a new era for PLU as we open its 123rd year. And we celebrate a new year and the beginning of life at PLU for you, our new students.
A teacher of mine liked to remark that ceremonies such as this one today are the way we act out what we cannot say.
She was right about that. Many of the elements of our ceremony of installation today stretch back to our founding in 1890. They are things we have not said but they are things that have symbolic meaning—using historic ceremony to pledge our collective support for the institution and its mission in a new period of its distinguished history.
My thanks go to everyone here for being part of this special day and for caring about this institution and the precious people who make it what it is.
I'd like to extend special thanks to my predecessors who join me today on the stage. We are honored to have Loren Anderson with us. His long and distinguished presidency bequeathed a robust and spirited institution.
Eugene Wiegman is here as well. He had a transformational term as president and has continued to be a model citizen and leader in our community over the years since.
I offer my thanks also to the members of the PLU Corporation, the Board of Regents, the Presiding Bishop, and all on the platform. Thanks too to the faculty, professional staff, and students who have made this day possible.
We are honored by the presence of many community leaders and other distinguished citizens of Parkland, Tacoma, Pierce County, Washington State, and well beyond.
Our festival day is made more festive and colorful by the presence of presidents and presidents' delegates who bring greetings in person from dozens of universities across the country. I join the entire PLU community in thanking the delegates not only for their presence, but also for demonstrating, visually, that the higher education community really is a community, and that we all prosper together.
I am also personally grateful for the presence of so many friends and relatives, many of whom have traveled from far away. They include my mother, Beth Krise, from South Carolina, my sister, Pat Kane, from Maryland, my wife Patty's family—the Loves and the Bateses from Indiana, friends and high school classmates from the Virgin Islands, and friends and colleagues from places Patty and I have lived and loved over the years.
I'm so pleased to have all these friends and supporters here today as we reflect on our university's mission, values and vision; a reflection on our great, collective accomplishments to date; and a reflection on the responsibility we share to ensure a promising future for all humankind.
Dare I say, "The World Needs More PLU."
The World Needs More PLU
A Foundation in Lutheran Values and the Liberal Arts
When Pacific Lutheran University was founded on December 11th, 1890—just one short year after the admission of Washington to statehood—our founding president, Bjug Harstad, wrote that he and his fellow founders aimed to raise [quote] "en foershte Rangs Skole"—a university of the first rank.
Harstad and his fellow Norwegian pioneer founders envisioned an institution that drew upon three millennia of liberal arts tradition. It is a tradition that stretches back to the prophetic quest for social justice, to the ancient Greek tradition of philosophical inquiry, to rabbinic argumentation, to the Christian monastic schools, and to the Islamic advances in the sciences.
Our founders also drew on centuries of Lutheran higher education tradition. The presence of representatives from many Lutheran colleges and universities here today is proof of the soundness and longevity of that well-established tradition.
Our founders also looked to the superb American system of higher education—with its firm commitment to academic freedom, its rigorous questioning of all received opinions, and its belief in the primacy of reason.  All of these – academic freedom, rigor, and reason–—are rooted in the great reform and revolution sparked by Martin Luther's protest.
Of course, the Reformation was as much about education and intellectual rigor as it was about religion. With his fellow reformer, Philip Melanchton, Luther established the German pattern of secondary and tertiary education upon which the American system was modeled in the later nineteenth century. Professor Luther's Reform of both faith and education came about as a result of his asking troubling questions, for which he got into trouble.
Luther and Melanchthon have shown us that colleges and universities are, and must remain, places to ask troubling questions, to debate, to make society uncomfortable, to seek knowledge wherever it might lead. The protection and promotion of academic freedom—the freedom to question, to teach, to learn, to publish and to broadcast—is a sacred trust.
The Scandinavian pioneers in the Pacific Northwest founded not only universities and schools, but also hospitals, libraries, and mutual benefit associations to carry out Luther's call for the care of all aspects of the human condition. This tradition of caring for others, for ensuring their education, and for fostering leaders committed to service to others finds itself well represented in PLU's mission statement: We seek to educate students for lives of thoughtful inquiry, service, leadership, and care—for other people, for their communities, and for the earth.  At PLU today, our distinctive expression of American higher education includes a superb liberal arts curriculum—with its stellar faculty and students in the sciences and social sciences, in the humanities, in music (so well represented here today), and in the fine and performing arts. It also includes a suite of select graduate and professional programs that all seek to build our students' capacity to serve the world— nursing, marriage and family therapy, finance, education, creative writing, and business.
So, you see, the world needs more PLU.
Lives of Service and Care
As a community and as individuals, PLU people care about the development and success of our students and of each other. We have high expectations for achievement—reaching back to the university of the first rank envisioned by our founders—and manifested in the ways Lutes are able to achieve even beyond their initial ambitions.  This achievement comes from the way our faculty engage as teachers and mentors.
People learn best from people they care about. To meet the challenges of the world's problems, we need more people spurred onto excellence by people they care about.
The world needs more PLU.
Our care for others and for the earth prompts our commitment not only to vocation but also to issues of diversity, justice, and sustainability. This month marks the 50th anniversary of the publication of Rachel Carson's Silent Spring, which is credited with sparking the environmental movement in which PLU has been such a dedicated player.
As much as Carson's call to environmental action warned of danger, she also inspired us to care for the beauty of the earth, not merely its utility, when she noted that: "Those who contemplate the beauty of the earth find reserves of strength that will endure as long as life lasts. There is something infinitely healing in the repeated refrains of nature – the assurance that dawn comes after night, and spring after winter."
To meet the environmental challenges we all face, we need more places to model sustainable practices, to study and to try out new ways of living responsibly and being faithful stewards of God's creation.
In this way, too, the world needs more PLU.
A Global University
For PLU, care for the earth and its people is intertwined in our robust commitment to international education—underscored by our firm partnerships with our Gateway Countries of Trinidad and Tobago, Norway, Namibia, Mexico, and China. These partnerships, coupled with our happy location in a major port city in the Pacific Northwest, in a key spot on the Pacific Rim—help  make international education at PLU so distinctive.
Robust engagement with the world means much more than mere touring. Study and preparation before studying abroad, together with reflection and analysis afterward, are characteristic of the way PLU approaches international education. And we also highly value the rich diversity of nationalities and cultures we attract to PLU from across our own country and from others—and we embrace and celebrate the cultures and ethnicities in our own Puget Sound region.
I've heard eloquent testimonials from students about how much they have learned about the world from their international classmates. So, you see, global engagement at PLU means much more than studying abroad. PLU has inspired countless alumni to work and travel and engage with people around the globe in positive and uplifting ways.
Not only does PLU cherish our diverse world – the world needs more PLU.
Wild Hope
The reflections we have shared and the ceremonies we have witnessed on this combined inauguration and convocation day have given all of you—but especially our new students—a glimpse into our institutional history; our mission, our purpose and our values; our more recent accomplishments and some of our aspirations for the future.
But in the end, PLU is all about you, our students. PLU's strong commitment is to help you realize your Wild Hope—your vocation, your calling, your purpose in life.
PLU's Wild Hope Center for Vocation takes inspiration for its name from Mary Oliver's question in her poem "The Summer's Day": "Tell me, what is it you plan to do with your one wild and precious life?" she asks.
We at PLU start the process of helping you discover your Wild Hope right at the start. You have already been engaged in a lively and stimulating Orientation Program for the past several days. You have already begun asking yourselves what we call the Big Enough Questions: "What skills do I have?" "How can I best matter to other people?" "What legacy do I want to leave behind?"
Our professional staff and faculty members have been prodding you to take full advantage of the smorgasbord of opportunities we offer at PLU. We do so with the goal of helping you figure out what you're good at and how you might use your abilities to make a difference in the world.  I know I've learned a lot about my own Wild Hope, and have found it here at PLU.  In fact, PLU is full of people for whom the life of the mind and the teaching of students like you is their Wild Hope—and we all can help you find yours.
We will present you with opportunities to meet and hear about the many distinguished Lutes who've made a difference in the world—many of whom are here in this hall with us today.
Imagine yourself following in the footsteps of the Honorable Joyce Anne Barr, Class of 1976, who was just appointed United States Assistant Secretary of State for Administration, capping a distinguished Foreign Service career that included serving as U.S. Ambassador to Namibia.
Your fellow Lutes include Brian Bannon, Class of 1997, who was recently appointed head of the country's second largest library system, the Chicago Public Library.
Or prepare yourself to literally change the world just like William Foege, M.D., Class of 1956, who was awarded the Presidential Medal of Freedom this May for devising the global strategy for the eradication of smallpox when he served as Director of the Centers for Disease Control.
And among your own near contemporaries, four members of the Class of 2012 showed great promise for the future by winning Fulbright Scholarships, bringing to 91 the number of Fulbrights won by Lutes. These awards went to Mycal Ford, who will be going to Taiwan; Carolyn Hylander, who is going to Colombia; Gretchen Nagel, who is going to Germany; and Caitlin Walton, who is going to Malaysia.
The more we know about PLU and our Lutes, the more we know that the world needs more PLU.
The world needs more of the kind of people we attract to PLU—people who feel called to serve other people, to meet and overcome the world's challenges—people who "care."
You've come to a serious university that is serious about your success. We depend on you to be the best you can be so you and we can help solve the world's problems.
You are embarking on this educational adventure in a period in which many of the most influential institutions don't last very long. Industries and technologies are changing rapidly. Companies and corporations come and go. Several of the biggest and most influential companies of today didn't exist when most of you new students were born. In fact, we are all living through a period of revolutionary change every bit as important as the industrial revolution of the 19th century, the scientific revolution of the 17th century, and the literacy revolution of the 16th century.
Today you're joining an institution approaching its quasquicentennial (our 125th anniversary); we're part of a nearly thousand-year-old tradition of higher education. PLU bears an important responsibility for establishing standards of excellence and preserving the memory of achievement.
It is because we will prepare you to measure up to these standards that the world needs more PLU.
Institutions like PLU not only help create the future—by teaching you to be creators of new knowledge—but we also preserve, conserve, memorialize, and celebrate culture and achievement.
Many of the buildings and halls and classrooms you'll be living and learning in bear the names of those who have made a difference in the world, and who wanted to give you the chance to make a difference. They know what you are sure to discover: college education makes it more possible to lead a well-lived life, a life of purpose and meaning, a life of achievement and satisfaction.
That life of achievement and satisfaction may seem a ways off for you at the moment. But, as you learned in Orientation, that nervousness you (and I) feel is education working inside us. This whole community is here to help you succeed and to become someone who discovers your vocation and lives a life caring about others, your communities and the earth.
The world needs more PLU—it needs you and what you can bring to the world.
To preside over as great an enterprise as Pacific Lutheran University is a humbling honor. This ceremony today symbolizes our heritage and formally opens a new epoch. This robe and this seal feel very heavy to me, and they remind me of the weight of responsibility that they symbolize.
I promise I won't forget. I pledge my constant care and concern for the University's people, for its tradition, for its excellence, for its ambition and for its future, because the world needs more PLU.