Currently Reading:
'The world needs more PLU'
September 4, 2012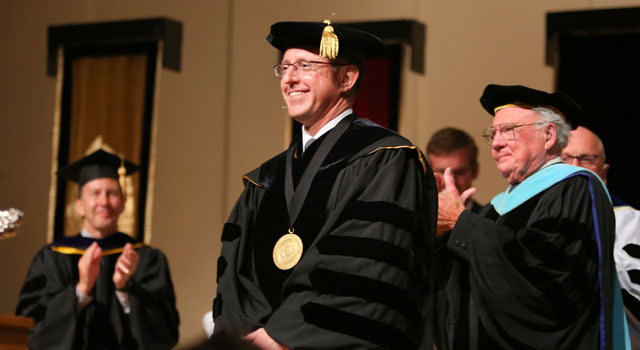 'The world needs more PLU'
The beginning of PLU's 123rd year marked a time of change and a celebration of a rich history of pursing lives of service and thoughtful inquiry. The Presidential Inauguration and Convocation welcomed the class of 2016 and the swearing in of PLU's 13th president, Thomas W. Krise.
"We become Lutes together today," Krise told a crowd of students at Olson Auditorium. "Ceremonies like today are how we act out what we cannot say."
To celebrate the occasion, 640 first-year students, 50 clergy, 200 faculty and 40 delegates from other higher education institutions gathered with staff, administrators, regents and guests. Presiding Bishop of the ELCA, Rev. Mark S. Hanson, gave Krise the charge of affirming his commitment to the pursuit of academic excellence and the shepherding of higher education in the Lutheran tradition.
It is the tradition of a Lutheran education and a history of three millennia of liberal arts education that brings faculty and students to PLU – where academic freedom, rigor and reason is the pursuit and standard, Krise said.

View the video of PLU President Thomas W. Krise's inaugural address.
"The world needs more PLU," he said.
PLU is a place where the pursuit of vocation is found and questions are encouraged, and students are encouraged to find their 'Wild Hope.' A poem by Mary Oliver brings to life this journey of vocation – "What will you do with your one wild and precious life?"
"Colleges need to remain places where you can ask troubling questions, push the boundaries and seek knowledge wherever that might be," Krise said.
He expressed how PLU is a place where care for the mind, spirit, body, community and the earth are pillars to stand on. He reminded students that the faculty and staff who work here are following their vocation.
"PLU is full of people where the life of the mind and teaching people like you is their 'Wild Hope,'" Krise said.
"In the end, PLU is all about you – the students," he said. "PLU's strong commitment is for you to realize your 'Wild Hope.'"
Krise reminded the class of 2016, there are many alumni who have found a passion and carrying on that tradition in the world today. Like Brian Bannon '97, who now heads the Chicago Library system, the second largest library system in the country. And there's William Foege '57, who this year received the Medal of Freedom, the highest civilian award in the U.S., in recognition for his leadership in the effort to eradicate smallpox.
In today's every-changing world, the students here will make those next contributions to the world, Krise said. What that world looks like is up to them. The students here are charged with living a life caring about others, the community and the earth, he said.
"A college education makes it more possible to live a well lived-life – a life of achievement and success," Krise said. "It (the world) needs what you can bring to the world."