Currently Reading:
Common Reading Program comes full circle with author's visit to PLU
September 13, 2012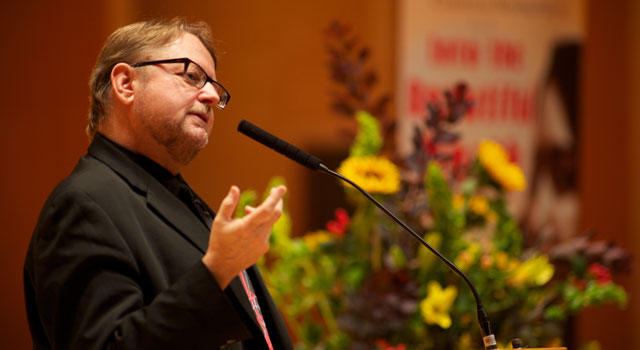 Common Reading Program comes full circle with author visit
After reading the subtle satire "Into the Beautiful North" as part of the Common Reading Program this summer, students, staff, and faculty had the opportunity to share a few laughs with the book's author, Luis Alberto Urrea, who visited campus Thursday, Sept. 13.
Urrea visited Professor Jason Skipper's class in the afternoon before taking the stage at a presidential inauguration event in Lagerquist Concert Hall to talk about his unusual upbringing which helped inspire his novel.
"I think I became a writer partially because it was safer to stay inside to read," Urrea joked.
Urrea was born to an American mother and Mexican father in Tijuana, but moved to the U.S. after contracting tuberculosis, which ended up destroying his hometown neighborhood. It wasn't until years later — after becoming the first in his family to go to college and losing his father — that Urrea was inspired to return to his old neighborhood to do mission work.
"Sometimes you forgot who you are or what you are. That's what happened to me," Urrea explained.
Working with a man by the name of Pastor Von and connecting with people from his old neighborhood gave him a new perspective on humanity, which is a common theme in many of his books. "Into the Beautiful North" tackles some of the issues plaguing Mexico, but it's also very lighthearted — which was Urrea's intent.
"I sat down to write a book that would make me laugh," said Urrea. "Humor is a virus that affects everyone in humanity. It's hard to not like someone and not welcome someone if you've shared a laugh with them."
After sharing some laughs with the audience — between stories about his mom and grandma sneaking the family pet, a parrot, across the U.S. Mexico border, and his dad trying to memorize an English dictionary upon their moving to the states — Urrea answered questions and signed copies of his book.
"He's really funny," said education major Megan Zink '15 after the lecture. "It was interesting to see the history behind the book."
Like other incoming students, Zink was asked to read the book as part of the Common Reading Program. This year, the program tried something new — asking all members of the PLU community to read a book so everyone could have something in common with the incoming class of 2016.
According to Zink, the program helped ease some of the awkwardness of meeting new people.
"I liked reading a book with everyone because it gave you something to talk about."