Currently Reading:
Government scientist shares passion for empowering women and minorities
September 7, 2012
Government scientist shares passion for empowering women and minorities
The science world needs more women, particularly in academic and research institutions, said government scientist Debra Rolison.
"They're too white — and too male," said Rolison. "There's a statistical imbalance between women and men."
She argued for change in her field before students and professors at a seminar in Morken on PLU's campus Friday afternoon.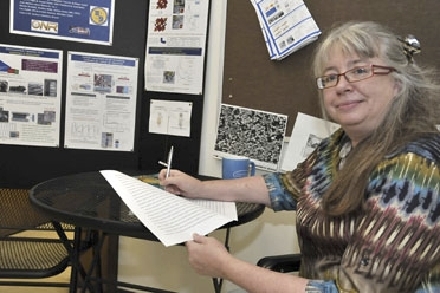 Rolison currently heads the U.S. Naval Research Laboratory's Advanced Electrochemical Materials section and serves as an Adjunct Full Professor of Chemistry at the University of Utah. Forty percent of chemistry Ph.D.'s go to women, but only about 10 percent apply for high-level positions, according to Rolison. The few women who advance in their academic and research institutions are often overworked — they spend a lot of their time in service, serving students who are more likely to turn to a female professor, and serving on various committees, which their institutions strive to diversify.
Put plain and simple, the system is dysfunctional and in need of an overhaul. And age-old beliefs continue to define what it means to be a scientist.
"You're not a real scientist if you leave at 5 to pick the kids up from daycare," is one example, said Rolison.
"We have to examine these myths and traditions," she said. "Sometimes we create pressure points — for something like going to a scientific meeting — but you shouldn't expect that level of intensity everyday."
Rolison argues for a three-part mechanism for change.
The first part is a revolution. One way to do this is applying Title IX so that institutions with statistical imbalances would lose funding.
"Losing funds gives you impetus to change," said Rolison. "It's a harsh measure but it gets the attention of people who can make change. Wanting to make it happen isn't going to make it happen."
She then argues for subversion.
"Every individual can counter what is valued in a dysfunctional system," Rolison said.
The third mechanism to change — and the most important — is climate change.
"If you can create a humane, inclusive, and diversified work environment, it shows there are other ways to do science than round the clock work," Rolison said.
Not only would such a setting make it much easier for both women and men to find balance in their lives—it would also lead to more creativity, according to Rolison.
"If you're always doing the gerbil in the wheel you can't be creative," Rolison said.
"She's an advocate for women in the chemistry department," said chemistry major Michael Klennert '13. "Her talk is very real. As you get into upper level education there aren't any women."