Currently Reading:
PLU joins Nobel Peace Prize Forum as a full sponsor
October 4, 2012
PLU joins Nobel Peace Prize Forum as a full sponsor
The Nobel Peace Prize Forum
Pacific Lutheran University is joining the Nobel Peace Prize Forum as a full sponsor. The Forum is the Norwegian Nobel Institute's only such program or academic affiliation outside of Norway. It was begun in 1988 as a consortium of private Lutheran colleges founded by Norwegian-Americans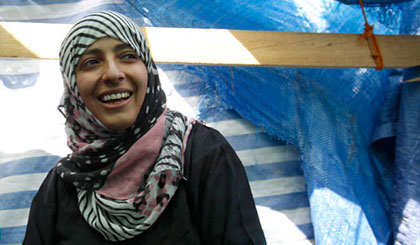 [Augsburg, Augustana (Sioux Falls), Concordia (Moorhead), Luther, and St. Olaf].
"We pride ourselves on global education and I think this is one way for us to practice globally within the United States," said Claudia Berguson, associate professor or Norwegian and Scandinavian Studies at PLU.
The Nobel Peace Prize Forum, an annual three-day event in Minneapolis, is held to inspire students and other citizens to become active participants in peacemaking efforts around the world. The Forum features keynote speeches by leading international peacemakers as well as faculty-student led sessions on diverse aspects of peace and peacemaking. The multidisciplinary focus of the Forum is emphasized through designating specific days to address peace in relation to science and health, business and global studies.
The keynote speaker for the March 2013 forum is the Yemeni journalist and peace activist Tawakkol Karman. She is one of three women awarded the Nobel Peace Prize in 2011. PLU will send students and faculty from diverse disciplines to participate in the Forum each year.
Peace Scholars Program
An outgrowth of the Nobel Peace Prize Forum, the Peace Scholars Program was established in 2011 as an annual summer program designed to deepen students' understanding of the central issues and theories regarding conflict, war and peace.
Two students from each of the six consortium schools are awarded a seven-week academic experience in Norway. Students begin their study in Lillehammer at the Nansen Center for Peace and Dialog where they engage in structured dialog sessions with students from the Balkans/Caucasus regions and the Middle East. Study at the Oslo International Summer School includes an interdisciplinary six-week undergraduate level course in peace studies.
"For our students to be able to go to such an intense and high quality learning environment is something they just can't learn any other way," Berguson said. "It just can't be duplicated anywhere else. For us to be a part of it is great."
In addition to the summer program, the Peace Scholars attend the Nobel Peace Prize Forum in the year before and after their summer study in Norway. Peace Scholars can be from any discipline, and are selected through an application and interview process.
In the coming months, the application process for the two positions will be announced.