Currently Reading:
UnPLUg aims to create culture of conservation
October 4, 2012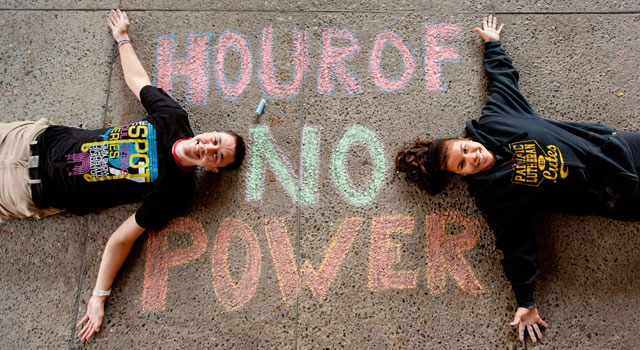 UnPLUg aims to create culture of conservation
The lights are off but the competition is on. Students in the 10 resident halls across campus are vying against themselves to see who can save the most energy during the month of October in the annual UnPLUg competition.
The UnPLUg tradition began in 2009 with a competition between eight of the residence halls, but this year all halls are involved and organizers hope the energy savings will continue after the competition.
The Sustainability Department is trying to make it more than a competition, so students will understand why being aware of individual power consumption is important, according to RHA Sustainability Director Anna Pfohl '12. "If they understand, they will continue with these habits," she explained.
Pfohl encourages students to "be aware of how much energy you're using," and, "ask yourself, 'do I need this right now?'"
In addition to turning off the lights, Pfohl stresses the importance of unplugging devices when they're not in use. So-called phantom loads continue to draw energy even though the device is turned off.
In an effort to increase awareness, results for each hall will be displayed in a chalk mural outside the Anderson University Center. The mural features each hall's average energy use based on past years and will be updated with the energy usage of individual halls every week. Day to day use will be posted on the windows of the Old Main Market.
During the competition, the Sustainability Department is also hosting two special events. On October 11, it will host a presentation from the CEO of Bonneville Power Administration, which distributes power to the co-op that PLU buys its energy from. On Sept. 25 the department hosted Hour of No Power in which students turned off their power and hung out by the fire pit or enjoyed glow in the dark Frisbee with the Women's Ultimate team.
These events and the competition are part of larger campus efforts to develop a culture of sustainability within our student body, faculty, and staff and be carbon neutral by 2020.
How to unPLUg:
Use less water, because most of the world has none.
Turn down the heat, and put on your onesy.
Turn off lights when they are unnecessary.
Be self-aware, think before you plug.
Engage in the cause, pay attention to events on campus to get smart.