Currently Reading:
Fields of Dreams
November 12, 2012

Shane Gutierrez takes a corner kick at PLU's new soccer complex. Photo by John Froschauer.
Fields of Dreams
Changes to PLU's athletic facilities will improve not only the student-athlete experience, but the experiences of all students
By Steve Hansen

In many ways, the season-opening 4-2 victory over Trinity Lutheran College was like so many women's soccer matches on PLU's lower campus. It was a beautiful blue-sky summer day with gray-and-white striations of Mt. Rainier glistening in the distance, and the evergreen firs looming just south of the soccer field.
And the grass was green. Really green. Artificial-green green.
For the women's soccer players who were the first athletes to officially compete on the synthetic-surface sports field, that color couldn't have been more beautiful.
The lighted multi-purpose field, on which the men's and women's soccer teams will play their home matches, is just one part of a long list of athletic facility renovations that have been taking place during the past two years.
Some changes – like the artificial-turf field and an additional natural turf field to the west of it – are obvious. The new fields provide ample space not only for intercollegiate competition, but for all students' recreational needs.
Other changes may not be immediately apparent, but they also enhance the PLU student experience. For instance, the construction of an all-weather track (which allowed the university the honor of hosting the 2012 Northwest Conference Championships last May), the rebuilt roof over the swimming pool, and the revamped locker rooms in both Olson Auditorium and the swimming pool, all have taken place in the past year.
And future changes – like plans for a rebuilt football field and stadium complex, or improvements to the softball field, home to the current NCAA Division III national champions – make it clear that more good things are to come.
But, any way you look at it, it is clear that much is happening on PLU's lower campus. All told, several million dollars' worth of improvements have taken place, all with the goal being not simply to improve the student-athlete experience, but also improve the experiences of all students, as part of PLU's educational mission of "educating the whole student."
At the groundbreaking ceremony for the multipurpose field last May, Director of Athletics Laurie Turner said the new field would "level the playing field," in regards to raising where PLU athletic facilities rank in the Northwest Conference.
Shane Gutierrez, a junior midfielder on the men's soccer team, would know – he's been playing in the Pacific Northwest Conference for years."We went from having one of the worst
soccer fields
in the conference to one of the best
soccer complexes
in the conference," the applied physics major said.
Erica Boyle, a senior midfielder on the women's soccer team, agrees. The Lakewood, Colo., native acknowledges that the Pacific Northwest weather can have some ill effects on a heavily-used grass field.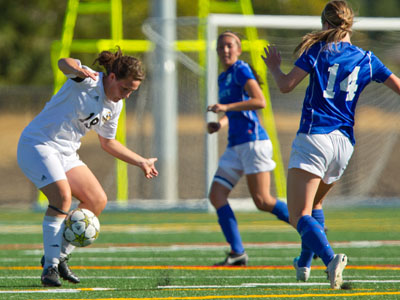 "The new field is awesome," she said with a laugh. "It is so nice to have that consistency, to know that with every touch of the ball, it will behave the same way – that your pass isn't going to hit some random hole."
Boyle notes another benefit. She also guides tours for prospective students for the Office of Admission. She said that when she would take students to lower campus, she was not exactly ashamed of the facilities, but she knew they were nothing to boast about. That, she said, has changed. She notices that prospective students, athletes or not, have an interest in the continued development and upgrades to the athletic facilities.
"People like to see that progress is happening," she said.
That progress will benefit everybody. Even though the new soccer field was open only to PLU's athletes this fall, come spring, it is likely to serve many more teams. For instance, club sports, such as Ultimate Frisbee and lacrosse that play in the spring, will also have the opportunity to utilize the field.
And for students who want to play intramural sports, the changes offer a whole new world of opportunities.
Every year, more than 400 students play intramural sports, ranging from traditional sports like softball, flag football, and soccer, to more playful ones like dodgeball. In all, there are more than 30 sports opportunities a year, geared toward all students – those who live and breath sports to those who've never played before, but want to try.
For PLU intramural sports, all are welcome. Unless there isn't enough field space to accommodate everyone – a problem that sometimes Jud Keim '86, director of intramural programs at PLU, encounters. "The thing with intramurals, we could only get so big," he said. "This will allow us to meet the demand, and allows us to expand what we can offer to the students."
And that, in the end, is what these changes are all about.
"What does this mean for PLU?" asked junior goalkeeper Joe Rayburn. "It is definitely a huge upgrade – a huge improvement for the varsity athletics community, but for the PLU community, as well."