Currently Reading:
Alum gives back to the community
December 7, 2012
PLU grad continues to give back to his community and greater Tacoma area
President of Korsmo Construction, John Korsmo '84 is building more than just academic halls.
His company, founded by his father, John Korsmo Sr., is focused on sustaining community, both at PLU and in the greater Tacoma area.
"We want to be of help where we can," Korsmo said.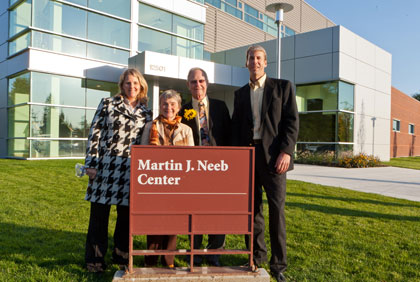 Korsmo Construction, well established locally with 65 years of experience behind the name, has been responsible for such projects as the Henry M. Jackson Visitor's Center at Mt. Rainier National Park and the Martin J. Neeb Center and Studio Theater at PLU.
"It was a real privilege building a building knowing it would be named for Martin, and to be able to build that building on campus," Korsmo said.
Korsmo and his company have received numerous awards, including McGraw-Hill Publishing Company's National Best of the Best Award in the Retail and Hospitality category. Despite these achievements in construction, Korsmo said he is more proud of his community service. Ten years ago, Korsmo established an organization called Helping Hands, a program in which his employees and their families donate time and talents to charitable organizations.
Through Helping Hands, Korsmo Construction has been able to support organizations such as the Boys & Girls Club, the YMCA, and Toys for Tots.
"We always try to find a way to help," Korsmo said.
After the tragic shooting of four Lakewood police officers at Forza, Korsmo Construction stepped up and created the fallen officer memorial at the café.
"It came to our attention, and it felt right," said Korsmo. "It was just an automatic response."
Korsmo's leadership in volunteerism earned his company the Corporations for Community Award, given by the secretary of state. Korsmo Construction was the sole recipient of this award statewide, and is an accomplishment in which the company takes great pride, said Korsmo.
"John's volunteerism transcends the company," said Scott Ramsey, fellow PLU alum and director of sales and marketing at Korsmo Construction. "There are many of us here individually involved in other organizations, and a lot of that comes from John's encouragement."
Korsmo attributes much of his activism toward community from his experiences at PLU. Korsmo said he has always felt connected to the university, and enjoys giving back to PLU and the greater Tacoma area community. In a way, Korsmo said he is following in the footsteps of his father, a PLU alum as well, and also an active part of the community.
In addition providing overall guidance and leadership to the entire Korsmo Construction team, Korsmo also serves as a member of numerous boards including the AGC of Washington, Broadway Center for the Performing Arts, PLU School of Business Executive Advisory Board, and serves as a Lakewood Water Commissioner.