Currently Reading:
PLU grad reaches new horizons, finds calling at NASA
December 7, 2012
PLU grad reaches new horizons, finds calling at NASA
After coming across an ad for a job at NASA in the newspaper, Sheryl Wold '76 decided to take her chances and send in an application.
Wold didn't just land the job — she beat out more than 250 applicants who had more relevant research experience.
She now finds herself with a career she loves but never once expected. Wold was contracted by the government through the University of California,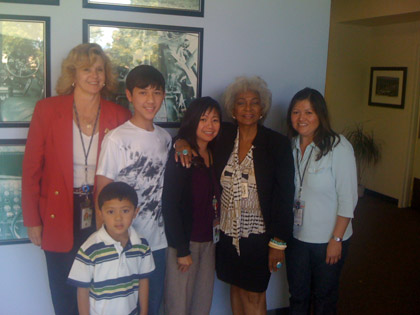 Santa Cruz to work for NASA and has been there for close to 20 years.
She said the thing that set her apart was her experience working as a therapist for six years after graduate school. This background made her a prime candidate for the human resources department of NASA, which is where she got her start in the organization.
"Moving was one of the best things that ever happened to me. It made me grow up," said the Oregon City native.
During her time at NASA, Wold has held various positions within the company. From 1987-1991, she worked in the Human Resources department, maintaining a range of responsibilities from improving the efficiency of hiring practices to organizing new employee programs. She also gave occasional tours of the NASA facilities.
"I am a master at walking backwards in high heels," Wold said with a laugh.
After taking a brief hiatus from work to travel with her first husband for his job, she was re-hired to work for NASA in 1997.
Wold began working with the research and development side of NASA to track milestones, develop software, narrow the focus of research, and monitor expenditures. She became a vital part of the systems engineering career team and worked more closely with the researchers.
"She knows how to get the best of out of them," said Deanna Nowadnick, Wold's longtime friend and college roommate. "It's a gift."
Currently, Wold is part of NASA's research division and works with the Federal Aviation Administration to facilitate the movement of planes through the airspace system.
Following the Challenger and Columbia disasters, there was a spike in security measures at NASA, and particularly in Wold's division. As a result, Wold has been much more involved with the research side of NASA and keeping track of expenditures of government money for various projects. There's no way to predict what a day on the job will be like for Wold though.
"A typical day at work? Hmm…Whatever is in my inbox!" she said. She has come to love the people she works with and is proud of the work she does. "I'm really lucky," she said.
Considering where life has taken Wold, you might never have guessed how her career path began. She looks back on her undergraduate years fondly. She knew right from the start it PLU was the right place for her. Post graduation, Wold went to graduate school at Portland State University to gain her master's degree in education with a concentration in counseling. She then went on to earn certification in personal management from Portland State in 1986.
As one of her closest friends and PLU college roommate for three years, Nowadnick said, "we knew early on that [psychology] was her first love."
After graduating from Portland State, Wold worked in the counseling field for six years, helping kids and teens who had been sexually abused or had problems with addiction to chemical substances. However, this kind of work took its toll. Although she loved helping others, she realized that the psychology field might not be the right place for her.
"I wanted to do something with people who are happy to see me," she admitted.
That's when Wold took the leap and applied for the position at NASA she had seen advertised in the paper.
Twenty years later, she couldn't be happier.
"It is a really fun place to work," said Wold of NASA.
Wold resides in the foothills of San Jose, Calif. with her fiancé, two horses and two mules. In her spare time, Wold takes care of her animals and enjoys trail riding with her fiancé. She also makes time to get together with Nowadnick and their group of close friends for annual reunions.