Currently Reading:
Neurosurgeon focuses on the heart
January 3, 2013
Editor's Note: Dr. Michael Haglund gave the Distinguished Alumnus Lecture during the Homecoming 2013 festivities in October. 
Neurosurgeon, alum follows his heart and passion to Africa
By Heather Perry '13
May 18, 1980 is the day Mt. St. Helens blew its top, but Dr. Michael Haglund remembers it as the day he graduated from Pacific Lutheran University.
More than three decades and multiple degrees later, Haglund is now a professor of neurosurgery, neurobiology, and global health at Duke University, and he recently received an endowed Chair in the Department of Surgery.
"PLU really helped lay a lot of foundations," Haglund said. "It will always have a soft spot in my heart."
That soft spot remains in part because Haglund met his wife in PLU's Mortvedt Library, and they have now been married for 32 years. It's also because of the close, personal relationships he developed with recently retired chemistry professors Charles Anderson and Larry Huestis and especially biology professor Jerrold Lerum.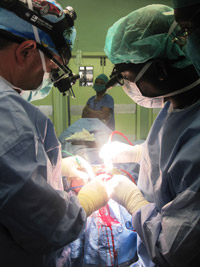 Haglund said Lerum told him his 3.0 GPA as a biology major after his freshman fall semester  wouldn't be good enough to get into medical school, and that motivated Haglund to switch to a chemistry major to prove him wrong – which he did. Haglund understood the motivating factor behind Lerum's advice, when Dr. Lerum told him after his acceptance to medical school "that some students need a pat on the back, while others need a kick in the rear, you needed the latter!"
Haglund completed his residency at the University of Washington School of Medicine in 1987 – part of which included a two-year Harvard neurobiology fellowship. He then went on to earn his Ph.D. in physiology and biophysics – also from UW – in 1988.
Haglund's other medical training includes a neurosurgery residency training at UW hospitals from 1987-1994 and working as a senior fellow in epilepsy surgery at UW hospitals in 1995. He then moved to the East Coast to work at Duke, and has now been there for 17 years.
Haglund, who became a Christian in his second year of residency, said he has dedicated his life to Christ in both his profession and family life. Part of that dedication has been multiple medical mission trips around the world.
"He's very neurosurgery-focused, but what I love about what he does is that it's all heart, and that makes it contagious," said Donna Roman, who has joined Haglund on multiple trips as a photographer.
When Pastor Jackson Senyonga of Kampala, Uganda visited Haglund's church in North Carolina in August 2006, Haglund said Senyonga told him he would be going to Uganda. That prediction became true in January 2007 when Haglund visited Mulago Hospital in Kampala.
What Haglund saw on that initial visit was technology used at Duke University's hospital in the 1930s and a lack of neurosurgeons – only five in a country of 30 million. Less than a year later, Haglund returned with 33 volunteers and functional surplus equipment – both new and used worth over $1.25 million dollars. Thus, Uganda Team Haglund began.
Roman chronicles visits as a photojournalist, and updates the Uganda Team Haglund blog – adding what she calls "the heart factor" to each surgery story. Roman said she is blessed to have that job.
"Not only is he [Haglund] a top neurosurgeon, but he's a friend. That speaks volumes," Roman said. "I love that aspect of working with him because I know I'm going to see something phenomenal and hear something phenomenal – he has reels of stories running in his head that are absolutely amazing."
What started as a medical mission morphed into a Ugandan East African Neurosurgery Training Program in August 2009, with Haglund and Dr. Michael Muhumuza of Mulago Hospital serving as co-directors, where five Ugandans are currently training to become neurosurgeons in their home country.
"We've been able to do amazing things there in the past five years," Haglund said. "They needed technology, but they also needed a training program."
And since Haglund is in charge of neurosurgery resident training at Duke, visiting Mulago Hospital is now part of that residency.
"We make a difference every day in treating our patients – whether it's here at Duke or over in Uganda," Haglund said.
So far, Haglund and his team have raised $6 million in donations to refurbish operating rooms and intensive care units. And teams of 20 to 30 medical professionals now visit East Africa twice per year to perform complicated neurosurgical procedures and train local neurosurgeons in the latest techniques.
"It became not just a missions trip, but a calling," Haglund said. "I'm really passionate about it because we can do a lot of great things as Christians and as physicians, but there's a difference between being on the edge of the river and being right in the middle of the stream where it's flowing beautifully and fast. When you answer the Lord's call, you get in that middle part."