Currently Reading:
Kurt Mayer provides a legacy of research
January 1, 2013
Kurt Mayer: Jan. 14, 1930-Nov. 13, 2012
The Holocaust Studies program at PLU lost its founder and namesake for our esteemed endowed chair on November 13, 2012.
Kurt Mayer, survived by his wife Pam, his daughter Natalie, his son Joe, and Joe's wife Gloria made this program possible.  Mayer's long friendship to PLU prompted Mayer and his family to join with Nancy Powell and her family to provide generous gifts which launched the Kurt Mayer Professor in Holocaust Studies in 2007. Two years later, the Endowed Professorship was elevated to its current level, an Endowed Chair.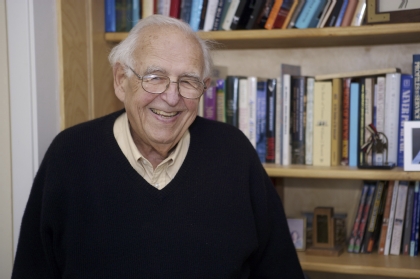 Kurt and Pam Mayer first supported PLU through their friendship with Dr. Richard Moe and his wife.
Joining the Q Club was a difficult thing for Mayer to do, given his childhood understanding of who Lutherans were.  Pam's encouragement led him to eventually join the PLU Board of Regents, becoming the first Jewish member of that board.  Mayer and his wife's commitment to PLU extended in 2000 when they became co-chairs of the Eastvold Leadership Committee along with Dick and Marcia Moe.
Mayer is known to many as the author of his memoir, My Personal Brush with History (2009). One of his fondest hopes was that a German-language edition could be made available in the country he and his family fled those many decades ago, a country he had learned to respect for its eventual willingness to face up to its horrific past. Just two weeks before his death, Mayer was able to hold that edition, Sie nannten mich Israel, aber mein Name ist Kurt (Berlin: LIT Verlag, 2012).
As Bob Ericksen, the Kurt Mayer Chair in Holocaust Studies, recently wrote of Mayer: "He was a remarkably energetic, witty, and intellectually engaged man, a survivor of Kristallnacht and other depredations during his first ten years of life, before escaping to the U.S. in 1940."
PLU will forever honor his legacy through the Kurt Mayer Chair.
The Kurt Mayer Chair in Holocaust Studies is an umbrella for a robust program which includes funding for scholarly research by professor and students, two Holocaust studies courses taught fall and spring semesters, J-term study away opportunities, the Powell-Heller Conference for Holocaust Education, support for the Raphael Lemkin Awards and Raphael Lemkin lecture, as well as a fall lecture.
In 2012, support allowed for two summer scholars as well as two fall lectures. It is a point of pride that this program maintains a strong base of supporters as well as continues to gain new friends and scholars who follow our programming each year.
You are invited to continue your participation.  See our website at www.plu.edu/holocaustconference or join us on Facebook Kurt-Mayer-Chair-in-Holocaust-Studies.