Currently Reading:
Diving for an A, at the bottom of the Puget Sound
January 14, 2013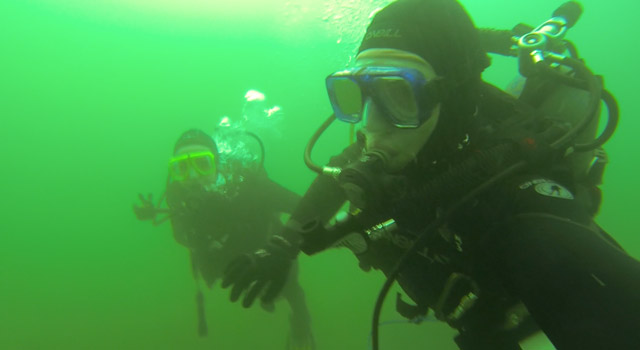 Diving for an A, at the bottom of the Puget Sound
A native of the land of 10,000 lakes, James Olson '14 never imagined he would be a certified scuba diver, getting college credit to take a dip in the Puget Sound. But through the scuba diving physical education class at PLU, collegiate credit and an unforgettable experience is exactly what he got.
For Olson, taking scuba diving as part of his college career was an educational experience that broke the traditional college class mold.
"As you grow up you have to look harder to find the things that fascinate you in the same way that they did when you were a child. I think scuba diving does that," Olson said.
Mike Adams of Tacoma Underwater Sports, Tacoma's local dive shop, instructs classes for college students at both PLU and the University of Puget Sound, providing opportunities to enhance scuba skills and not break the bank.
With local connections such as these, Olson has already gone from being a beginning certified open water diver to an advanced open water diver. He has descended 100 feet under the Puget Sound, explored sunken sailboats, submerged pipelines, swam with jellyfish and has even glimpsed the tentacle of an octopus.
"I can probably list the number of scuba divers in Minnesota on one hand," Olson said.
But this Minnesotan plans to continue advancing his skills and staying active in the diving community.
To date, Olson has taken the requisite PE 100, sailing and scuba diving during his time at PLU. With two capstones looming on the horizon, James plans to spend his fourth and final required PE credit on Relaxation Techniques, learning how to ease stress the productive way.
A junior English major with an emphasis in writing and a philosophy minor, Olson keeps busy. As a guide for PLU's Outdoor Recreation club, Olson takes every opportunity to get outside. When he isn't writing, philosophizing or tromping around the wildness, Olson can be found writing and producing his own music and sharpening his audio engineering skills.  And, if you can't find him doing any of those things, this Lute could very well be exploring the ever-changing ocean floor, all thanks to his scuba class at PLU.