Currently Reading:
Bonnie Nelson '08: A Passion for Service
January 18, 2013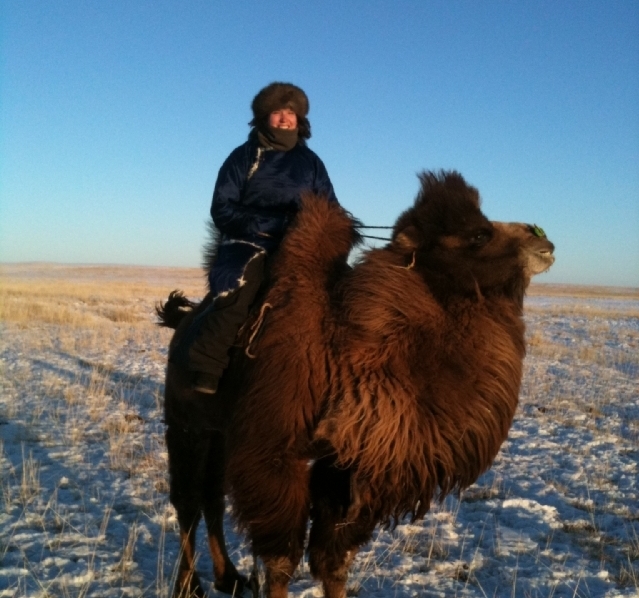 A volunteer experience in an elementary school sets alum on path to Mongolia
By Barbara Clements
University Communications
After growing up in a small town near Chehalis, Wash., Bonnie Nelson '08 at first wanted to just "be a face" in the crowd, and chose to go to a large public state university, rather than Pacific Lutheran University.
She soon realized this was a mistake.
"I knew within weeks that this wasn't for me," said Nelson in an interview from Mongolia. "It wasn't the education I was looking for, and I didn't know my professors."
Laughing now, Nelson said her father Glen Nelson '69,
knew that PLU was the right choice for her, but let his daughter find that out on her own."He knew all along that PLU was the right fit for me," said Nelson, whose sister, Annalee Nelson '01, is also an alumna. The credits were easily transferred and Nelson was able to get financial aid and a scholarship to make the financial transition. Instrumental in her development of her passion for service was a psychology class with Professor Jon Grahe and working with children at Thompson Elementary in Parkland.
"Working with those children, and in that program, it changed everything for me," said Nelson, who graduated with a degree in psychology. "I knew that I wasn't going to be a research scientist then."
The climate at PLU also encouraged everyone to get involved, she said.
"It's just the environment there," she said. "I don't really feel like it was just shoved down our throats. Everyone you knew was working on a service project, or volunteering in some way. PLU does a really good job of emphasizing that you aren't put on the planet to serve yourself, but to be a global steward."
A J-term program to Bolivia, and then a trip to Thailand while she pursued a graduate degree at the University of Washington in educational policy and leadership study, cemented her desire to travel, and to serve. By 2011, she was ready to join the Peace Corps. But she never imagined she'd end up in Mongolia, which at four people per square mile, has the lowest population density in the world. She had let the Peace Corps decide where to send her,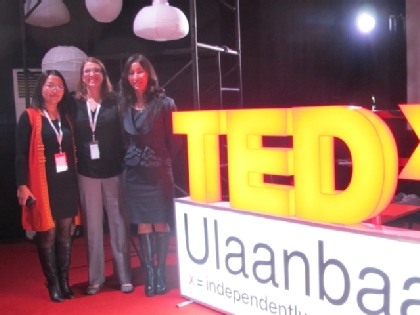 but still the assignment came as a surprise."I was at work, and everyone knew the letter was coming, then my roommate called to say a letter had arrived and I was going to Mongolia," she remembered. "So when she said 'Mongolia,' everyone started Googling it."
During her last two years there, Nelson has found a renewed passion for service as she teaches English at a technical college, help residents of Baruun-Urt, which is located on the eastern steppe in Mongolia, set up Facebook and email accounts or do whatever is necessary.
She's also been working with local service organizations on the "Good Father" project. In Mongolia's rapid push to become a democracy, social issues came up including alcoholism and unemployment. The Good Father Project reaches out to men and holds them up to the community as such,  through photos, essays and support groups, Nelson said.
It's a country of incredible vistas, rolling out toward a distant horizon, without a tree or mountain to interrupt the view. Yurts sport solar panels and satellite dishes. Camels, donkeys and goats share the streets with SUVs or Lexuses.
"I think the mixture of modern and traditional surprised me," she said. "I'd be in a grocery line and someone in traditional dress would be buying something like an iPad."
Aside from the fact there are no trees within eyeshot, or mountains – "I miss Mount Rainier!" – Nelson has had to get used to the cold. She has a nice apartment at Mongolian University of Science & Technology, sometimes the heater doesn't work. And when it's 20 degrees below out, that can be a problem.
"I wrap up in all the blankets I have and get near a space heater," she laughed.
After a quick vacation in Norway, where she'll meet up with her family, Nelson will be deciding what to do next. She will look for a job. She's considering setting up youth service center.
"I plan to encourage to serve others, and do so myself, as much as I can," she said. "It's such a meaningful part of life."