Currently Reading:
Economics of golf
February 5, 2013
Economics of golf
By Jesse Major '15
An unconventional approach to economics that allows students to shoot lasers and travel PGA tour destinations was taught this J-Term by Mark Reiman, associate professor of economics.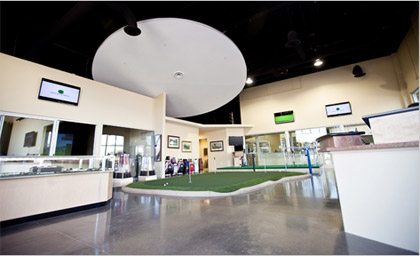 This class, The Economics of Golf, was inspired by a book called Golfonomics – not Reiman's golfing skills
In The Economics of Golf, students met with owners of golf courses in Tacoma, Monterey, Palm Desert and Phoenix, as well as officials of the PGA tour to discuss the economics behind golf.
"I like to test economic theories," Reiman said. "But I am not an avid golfer."
Many of the students didn't have much experience with golf, but wanted to test economic theories. Dimitri Sammpas '13, an economics and business major, has experience with mini golf and Wii Golf. "One of my interests in economics is in depth economics analysis of business as well as using economic theory," Sammpas said.
Unlike the traditional economics class, The Economics of Golf allowed students to get involved with new research, "instead of being taught something that's existed hundreds of years," Sammpas said.
They are able to apply economic theories not only to the course management of golf, but also to the game itself. While in Palm Desert, the class attended the Humana Challenge and had the opportunity to walk with celebrities and professional golfers as marshals.
"Our job was simple; make sure people aren't distracting the golfers with their phones or cameras," Kyle Parnelle wrote in the class blog. "It was truly an amazing experience walking the course that the pros were walking,"
At the Phoenix Open, the class volunteered to help run the ShotLink system. ShotLink is a device that uses lasers and GPS to stream data to on-site television broadcast partners like CBS and NBC, PGATOUR.com, print media, mobile devices and others. The data provided by ShotLink, makes it easier to apply economic theories to the game. One specific theory Reiman mentioned was Prospect Theory, for which psychologist Daniel Kahneman won the 2002 Nobel prize in economics. It proposes that people aren't always trying to maximize benefits, but are paying attention to a benchmark. In this case, the benchmark is par.
"Do golfers pay attention to par? Yes, they sit in it," Reiman said.
This is in contrast to neoclassical economic theory that says that people are always trying to better their situation given the constraints they face. The Economics of Golf was split into two sections in order to maximize the number of students that could take the class.
Holly Lucas '16 plans to major in Athletic Training, and Econ 287 was a perfect pairing of interests.
"I love traveling," she said after returning from Mexico the day before leaving for Monterey. "Being able to go and experience is the best way to learn."