Currently Reading:
iPhoneography
February 5, 2013
iPhoneography
IPhoneography, photography on the iPhone, is an art form that is getting more popular.
Beatrice "Bea" Geller, associate professor of art and design, taught a class on this emerging medium during J-Term.
She taught iPhoneography based on her first reaction when she bought her iPhone two years ago.
"When I bought my iPhone I had a liberating feeling – it was spontaneous," Geller said.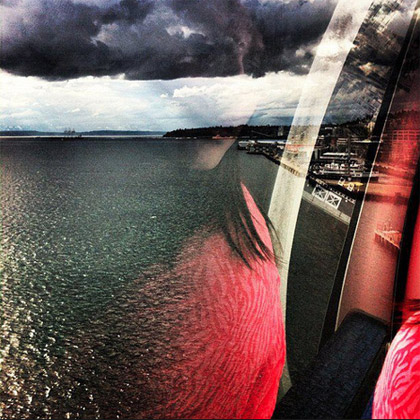 Geller and her students are learning this art form together.
"It is nice when the professor puts you on an even playing field," said Bradford Lum '15, a business major and photography minor. "If the professor is on the same level, we both learn."
In the class the professor and students shared with each other what they knew about this emerging practice.
"No matter what it's a collaboration," Geller said. "We are making some exceptional discoveries."
She quickly learned that smartphone apps could be integrated into conventional photography, even replacing expensive equipment.
The first thing students usually learn in photography is how to get correct exposure, but with iPhoneography students can focus entirely on technique. They don't need to worry about what their aperture, shutter speed and ISO are, or even what those are. With the technology, the students were able to focus on concept rather than be burdened by technique.
Without having to worry about exposure, students "can get to the substance of photography and experience their world. IPhoneography is about having an adventure and a willingness to explore," Geller said.
Unlike many courses, the articles students were assigned to read were written while Geller taught her class. With this field of photography being developed right now, the most current articles are the best.
Geller discovered that iPhoneography has even been on the cover of Time magazine.
As part of the class, she had her students post photos to Flickr and had her past students critique the class's images online.
"The mobile revolution is incredible," Geller said. "Students are getting comments about their art and are now published."